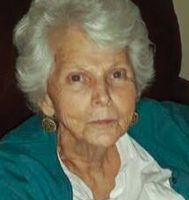 Shirley Selva Adair Miller our loving mother, sister and aunt returned to her Heavenly Father on August 8th, 2019 surrounded by her family. She was born in Rifle, Colorado on February 22, 1936 to Arnie Clarence and Mary Lela Adair.
Her greatest love was being with and doing things for her family. Shirley also loved riding horses, camping, fishing, barbecuing, growing flowers, working in her yard, watching bull riding, playing cards and wrestling with her brother Arnold. She was a kind and spirited daughter of God who had a heart of gold and enough spunk and dedication to accomplish what ever she set her heart to. She had four children, Donna Rae Powell, James and Debbie Powell, Larry and Rose Powell, and Linda and Warren Black and raised two step-children Lawrence Flowers IV and Gail and Micheal Colzmanm.
She was presided in death by her husband; Kenneth Miller, father and mother; Arnie and Mary Adair, brother; Jim Wynn, sister; Molly Black, brother; Jerald Adair, sister; Carol Rich and daughter; Donna Rae Powell.
Those survivors left to cherish her memory include her brother; Aronld and Jackie Adair and sister-in law; Colleen Adair, five of her formerly mentioned children, sixteen grandchildren and twenty four great-grandchildren and many beloved nieces, and nephews. She married Raymond Powell in 1953 in Carbonville Utah, later divorced. Married Grove
L. Flowers III in 1968, later divorced. Married Kenneth Miller in 1980, who passed away in February of 2010.
She worked her fingers to the bone to take care of her family. Her many jobs ranged from cook, diode assembler, egg scanner, hotel maid and cashier. Whatever the job was she always went the extra mile. One of her favorite jobs was cashier in the Helper Mission Store, where she always donated as much money to the store as she was paid by buying little gift for those she loved. No one ever left her home with an empty belly. Through our families many trials and accomplishments she was always the wind beneath our wings. We love her and will truly miss the love she had
for each of us and her ever comforting smile.
Funeral services will be held Thursday, August 15th, 2019 at 1:00 pm at the Price 9th Ward Chapel, 150 South 500 East, Price Utah. Viewing will be held Wednesday, August 14th, 2019 at Fausett Mortuary, 680 East 100 South, Price
Utah from 6 — 8 pm and at the Ward Chapel on Thursday from 11:30 am to 12:45 pm. Interment will be in the Cliffview Cemetery under the direction of Fausett Mortuary.
Family and friends may sign the online guestbook and share memories of Shirley at www.fausettmortuary.com