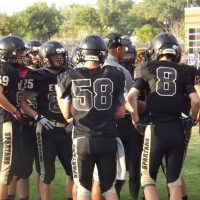 Jon Faimalo will head into his fourth season as head football coach at Emery High School this year and will be looking to continue to build his program around young talent.
With just six seniors on the team from last year, the Spartans will be looking for the underclassmen to step-up and play big minutes again this year.
"I have probably about 19 freshman, 22 sophomores and 18-19 juniors, so the bulk of our numbers are coming from those lower classes," Faimalo said.
Last season with only four seniors on the squad Faimalo has been leaning on a "youth movement" the past two seasons, which he is hoping will start to pay dividends this year.
Also since the underclassmen will be playing more at the varsity level, Emery will only play three JV games this season.
There is  still a question at the quarterback position between senior Seth Justice and sophomore Ryker Jensen.
"We have a quarterback battle just looking at it, I was leaning one way and now I'm leaning the other way, so it's still up in the air for me," Faimalo said after the Black and Gold game. " I don't know if it brought more clarity or made it more cloudy."
Emery will be looking for help offensively this season to improve on last years 11.3 points per game and 141.2 yards per game average.
The offense could see a massive boost with big seasons from seniors Jaymes Bowman in the receiving corp, as well as Szion Gibson in the offensive backfield. Both have spent time in the weight room this off-season and it shows. Bowman is coming off of a season where he had 39 passes for 570 yards and three touchdowns. Gibson has added 10-15 pounds to make him more durable at the running back position.
Defensively the Spartans will be in a 4-3 scheme. Last season the team allowed 36.8 ppg., which ranked them 11 in all of 3A.
Gibson and Bowman will be leading the way on defense as well. Gibson will be prowling the field from the linebacker position along with senior Teagan Christman while Bowman looks to build on his 30 tackle performance from last year at the safety position.
Emery will be playing in a new look Region 12 this season along with Carbon, Grand, San Juan, Richfield and South Sevier.
Emery will take to the field Friday night Aug. 16 for a home match-up against 2A powerhouse Millard at 7 p.m.. Their first region tilt will come on Sept. 20 on the road against Grand.
Remember you can listen to all Emery Football games on KOAL 107.3 FM and 750 AM as well as stream them live at castlecountryradio.com, your home for Spartan Football.
2018 Results:
| | | |
| --- | --- | --- |
| Opponent | Result | Record |
| VS Richfield | Loss 42-9 | 0-1 |
| VS Grand | Loss 42-7 | 0-2 |
| @ Payson | Loss 31-7 | 0-3 |
| VS Manti | Loss 28-0 | 0-4 |
| @ Judge Memorial | Win 28-21 | 1-4 (1-0) |
| @ Carbon | Loss 16-9 | 1-5 (1-1) |
| @ Morgan | Loss 36-0 | 1-6 (1-2) |
| VS Union | Loss 42-7 | 1-7 (1-3) |
| VS Grantsville | Loss 56-22 | 1-8 (1-4) . |
| @ Juab (Playoffs) | Loss 54-14 | 1-9 (1-4) |
2019 Schedule:
| | | |
| --- | --- | --- |
| Date | Opponent | Time |
| Friday Aug. 16 | VS Millard | 7:00 p.m. |
| Friday Aug. 23 | VS North Sanpete | 7:00 p.m. |
| Friday Aug. 30 | @ American Leadership | 7:00 p.m. |
| Friday Sept. 6 | @ Juan Diego | 7:00 p.m. |
| Friday Sept. 13 | VS Juab | 7:00 p.m. |
| Friday Sept. 20 | @ Grand | 7:00 p.m. |
| Friday Sept. 27 | VS Carbon | 7:00 p.m. |
| Friday Oct. 4 | @ South Sevier | 7:00 p.m. |
| Friday Oct 11 | VS Richfield | 7:00 p.m. |
| Thursday Oct. 17 | @ San Juan | 7:00 p.m. |
| Oct. 25 & 26 | State Playoffs | TBD |