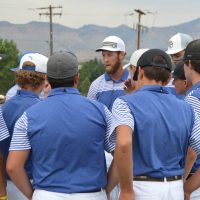 The Carbon Dinos strengthened their lead at the top of the Region 12 standings by dominating the competition in the third meet of the season Tuesday afternoon at the Moab Golf Club.
Brady Gagon shot a team best 76 to lead the Dinos to a final team score of 311. Grand finished second on their home course with a 329, easily beating Richfield's 351. Emery ended fourth with a 400, followed by South Sevier's 409 and San Juan's 447.
Senior Nick Olson matched his low score of the young season with a 77. Freshman Bode Salas and senior Kaden Slavensky both ended with 79s. The meet marked the first time a team in the region delivered four scores in the 70's.
Tuesday's performance gives the Dinos a 48-stroke lead for the top spot overall in the division. Grand has moved into second, followed by Richfield, South Sevier, Emery and San Juan.
Gagon's 76 is his low round of the season and moves him into first on the individual leaderboard. Gagon opened the season with a 79 in Roosevelt on July 31, before finishing with the same score last week in Richfield.
Carbon will now take nine days off before returning to division play on Thursday, Aug. 22 at the Millsite Golf Course, the home course of the Emery Spartans.
Below is the current team standings following Tuesday's meet:
| | | | | |
| --- | --- | --- | --- | --- |
| Team | Roosevelt | Richfield | Moab | Strokes |
| 1- Carbon | 317 | 320 | 311 | 948 |
| 2- Grand | 339 | 328 | 329 | 996 |
| 3- Richfield | 336 | 325 | 351 | 1,012 |
| 4- South Sevier | 413 | 359 | 409 | 1,181 |
| 5- Emery | 398 | 413 | 400 | 1,211 |
| 6- San Juan | 479 | 488 | 447 | 1,414 |