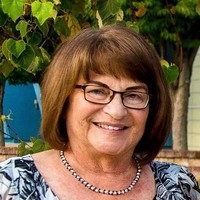 Inge Anita Gilbert, our feisty little Dansk Viking, has gone to seek her Valhalla. She was born in Esbjerg, Denmark on March 26, 1946 to Meta Nielsen and Erik Abrahamsen. Her schooling was in Denmark, and there she learned her trade as a seamstress, sewing everything from hats to drapes to cheer-leading outfits, as well as hundreds of dresses for weddings and proms. Inge worked her day job as a seamstress at several clothing and drapery companies, and yet by night and weekends would go home to sew some more. She may be considered the greatest seamstress of all time. She was an amazing cook. There was a favorite traditional Danish food in the family that she would make, of which we would say, "We don't know what the question is, but the answer is Frikadeller."
She married Jon G Gilbert on December 3, 1965. They were married in the Salt Lake LDS Temple and were married for almost 53 years.
They raised 2 terrific sons, Gary E (Robin) and Donny G (Renata) in Castle Dale, UT. They have 3 brilliant grandchildren: Sophie, AJ, and Kelsey.
Inge is also survived by her brother, Niels Abrahamsen, of Woongarrah, Australia.
Graveside services will be at 12:00 p.m. on September 13, 2019 at the Castle Dale Cemetery. Arrangements entrusted to Mitchell Funeral Home of Price where friends are always welcome daily and may share memories online at www.mitchellfuneralhome.net.