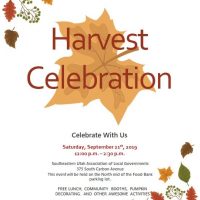 The Southeastern Utah Association of Local Governments (SEUALG) is thrilled to invite the community out for their annual Harvest Celebration. The festivities will take place on September 21 at 12:00 pm till 2:30 pm at 375 South Carbon Avenue in the parking lot.
"The Harvest Celebration was started as a way to say Thank You to Our Community for always donating food, assisting in food drives, volunteering in the community garden, so it's our way of saying thank you," said Community Services Program Manager, Julie Rosier. The event celebrates this year's success of the garden, plus it's a wonderful way for community members to see the hard work that volunteers have accomplished throughout the gardening season.
The celebration will have several informational booths on hand as well as several fun activities planned for the entire family. "We will have the Coke truck/trailer there, we'll have face painting, pumpkin decorating, cotton candy, fish pond, lots of really fun things for family and children and this is a free event. So, we will have some amazing food, gifts, fun things for the kids and all adults," said Rosier. There will also be demonstrations on Dutch Oven Cooking, gardening ideas, nutritional information, and cooking demonstrators for guests to enjoy during the event.
The local Food Bank would not be a success without the many donations brought in throughout the year. "So, our community really comes together to assist us to make sure, you know, that the food bank has enough food so that is so critical in our community to be able to help support individuals in time of need," stated Rosier. The shelves get a bit bare during the summer months and with the holidays quickly approaching the food bank would like to get a head start on replenishing the shelves. Any non-perishable food items and/or monetary donations are always accepted and greatly appreciated.
To learn more about Southeastern Utah Association of Local Governments Community Garden or Food Bank program visit their website at http://seualg.utah.gov/