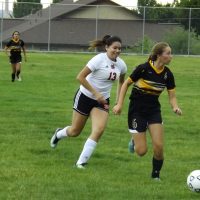 Two second half goals was enough to propel the Emery Lady Spartans to their third consecutive win, topping the San Juan Broncos 2-0 Tuesday afternoon in Castle Dale.
Alexis Winter scored not once, but twice for Emery. In three region games Winter has found the back of the net five times.
Entering Tuesday's tilt with dominating region wins over Grand and South Sevier, the Lady Spartans continued to soar defensively. Goalkeeper Kiri Cook has now recorded two shutouts in three region games, helping Emery to a 3-0 division record.
Now 4-5 overall, Emery currently holds the No. 11 spot in the latest Utah High School Activities Association RPI rankings.
The Lady Spartans will look to continue their winning ways when they welcome in the Richfield Wildcats Thursday afternoon. Despite holding the No. 3 spot in the RPI standings, the Wildcats suffered a loss to the Carbon Dinos Tuesday afternoon.
Emery now shares a first place with Carbon at the top of the Region 12 standings. The two teams will share the field for the first time on Tuesday, Sept. 17.