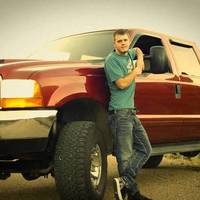 Baylan Bryant Nelson, our handsome, humble, loyal, quick-witted and adventurer left us on Friday, September 13, 2019 at only 22 years old.
Bay was born September 8, 1997 in Salt Lake City, Utah to Bryant and Mindy Allred Nelson.
Bay loved family, Ford trucks, Honda motorcycles, beautiful women, Futurama, German chocolate cake, New Amsterdam and Play Station. Not necessarily in that order. He hated beans and beating around the bush. Not necessarily in that order.
He was a master mechanic, equipment operator, wakeboarder, fisherman, happy camper and outdoorsman and grower of an awesome Amish beard. Bay was also an avid learner of anything electrical or mechanical and could tell every statistic he had learned. He was great at making everyone feel appreciated & usually had a song to go along with it. He could fix absolutely everything with a can of WD-40, duct tape & curse words. Bay loved to tell stories and if you were lucky, you could hear it in his fluent Russian accent. He loved to help people. He changed tires, oil, pulled people out and towed them home, helped move friends to new houses, and was so happy to do it. He always made time for family and friends. He would stop by home for breakfast head over to Krispy's for lunch and would spend dinner with his friends, even if he only had one day off from work.
When Bay took off for his trail ride in the sky he left behind his parents Bryant & Mindy, his little sister Dariyan Jo and brother Sayer. His grandparents Jed & Kim Allred and Becky Nelson. Many loving aunts, uncles, cousins and friends.  He was preceded in death by his grandpa, Glade Nelson; uncle, Ryan Allred; cousins, Payten Christman and Shandee Murdock; and many other loved ones.
Funeral service, Wednesday, September 18, 2019, 11:00 a.m., Mitchell Funeral Home (233 East Main Street) in Price where the family will begin receiving friends at 9:30 a.m. Burial will be in the Huntington City Cemetery. Arrangements entrusted to Mitchell Funeral Home where friends are always welcome daily and may share memories of Bay online at www.mitchellfuneralhome.net