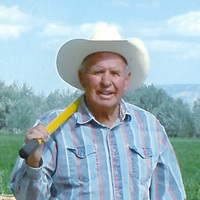 The patriarch of our home, Glen Hansen, passed away peacefully at his home in Cleveland, Utah on September 15, 2019 at the age of 86 from natural causes associated with congestive heart failure.
He was born on December 19, 1932 to Ben and Liza Hansen in Elmo, Utah where he was raised in a hardworking family with five brothers and one sister.
He attended Utah State University after graduating from North Emery High School. He was sealed to his high school sweetheart, Colleen Bishop, on June 5, 1953 in the Salt Lake Temple. She was his "black-haired beauty" and the person he loved most in this world. Although he could not carry a tune in a bucket, he often serenaded Colleen with songs about how she was his sweetheart. Together they were blessed with 7 children: Darcey (Gregg) Powell of Cleveland, Utah, Corey (Jill) Hansen of Elmo, Utah, Dal Hansen of St. George, Utah, LaDene Fletcher of Harrisville, Utah, Trudy (Gerald) Knight of Nibley, Utah, Spencer Hansen of Pleasant Grove, Utah, and Ross (Holly) Hansen of Heber City, Utah.
Glen was a dedicated member of the Church of Jesus Christ of Latter-day Saints where he served in many capacities including stake high council, Bishop of the Cleveland First Ward and served alongside his eternal companion on a proselytizing/service mission in Naga, Philippines. Their mission was life changing. Deep emotion always surfaced whenever Glen shared experiences from the time spent with the Pilipino people.
Glen spent 30 years in the coal mining industry; the majority of those years he was employed by US Fuel in Hiawatha. As a lifelong rancher, he operated a farm in the mounds area of Emery and Carbon Counties as well as property in Elmo, Utah.   In his ranching endeavors, he enjoyed having a dog by his side, and had a humorous obsession for diesel powered Isuzu pickup trucks for performing his farming duties. Over the course of his life, Glen ran sheep and cattle on mountain and desert allotments and loved caring for his herds in what he valued as two inherently beautiful landscapes. Glen also raised smaller quantities of chickens, pigs, and horses. He owned thoroughbred race horses, and enjoyed traveling the country to watch them race.
Glen was a talented athlete and loved to tell stories to his children and grandchildren of his youthful athletic accomplishments. As much as he enjoyed farming and animal husbandry, and was proud of his past accomplishments, family was most important. He loved to gather his family together to enjoy Easter in the desert, Christmas at his home and Cleveland Days at the town park. He will be dearly missed and remembered for his incessant work ethic, church and community service, and love for his family.
He is survived by his wife and his entire posterity consisting of all seven children and their spouses, 23 grandchildren, 40 great-grandchildren, and one sister (Verda Minchey).
He was preceded in death by his parents and all of his brothers, Arvel, Vern, Darold, Aron and Marvin Hansen.
A funeral service to celebrate his life will be held on Friday, September 20, 2019 at 11:00 a.m. at the Cleveland Ward Chapel where viewings will be held Thursday evening September 19th from 6 to 8 p.m. and from 9:30 to 10:30 prior to the funeral service. Arrangements entrusted to Mitchell Funeral Home of Price where friends are always welcome daily and may share memories online at www.mitchellfuneralhome.net.