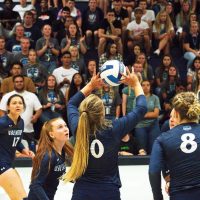 By Calvin Jensen, USU Eastern Volleyball
Price, UTAH – The USU Eastern women's volleyball team surged ahead in the national polls this week to #12 in the country.  Over the weekend the Lady Eagles knocked off two ranked programs and defeated all four teams in the Colorado Invitational. The team also improves to a 17-3 record which has never been accomplished in school history.
In addition to their success in the national rankings, the Lady Eagles are crushing the stats.  Out of over one hundred teams in the country, they are holding steady at #1 In kills, #1 in digs, and #1 in assists.  Individually, outside hitter Kiara Richardson holds the #1 spot in kills with an impressive 221.  Freshman setter Ashlee McUne holds the #1 spot in assists nationally with a whopping 814 and #2 in assists per set.
The Lady Eagles have dropped only fourteen of their sixty-nine sets played so far in non-conference matchups, holding twelve of their opponents scoreless; several of which were nationally ranked.
When asked about the success of this years team, assistant coach Sarah Mafi said, "We are super proud of this team. They work extremely hard everyday in the weight room and in the gym.  It is definitely paying off.  These ladies are very selfless players and anytime they win the entire team is credited for that success.  That has been key for the unbelievable season we've had so far this year."
USU Eastern will finish out their non-conference games this weekend as they travel to Nebraska for the Wyo-Nebraska Tournament.  On Friday they will face Sheridan College at 11AM followed by Trinidad State College at 5PM.  Saturday they will take on Western Wyoming College at 8AM and Eastern Wyoming College at 2PM.
The games will be broadcast LIVE on Facebook under USU Eastern Women's Volleyball page.