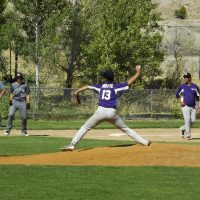 The Pinnacle Panthers baseball squad played on Friday and Saturday in the 1A State Tournament in Spanish Fork. Winning their first game on Friday against Intermountain Christian, they would fall the next day to Piute, ending their playoff run.
Below is a complete recap of Friday and Saturday's games:
Friday October 4- Intermountain Christian (8-12 overall, 2-6 in region and RPI #13) – Win: 5-0
In the first game Pinnacle would come out swinging scoring two runs in the first and third innings and adding one more in the fifth as they would walk away with this one 5-0.
Sophomore Michael Schmitz would log one run, one hit and collect two RBI's, senior Shayden Christensen would add one hit and two RBI's as well. Junior Stetson Motte had two run and two hits including one double. Junior Mikey Vigil would collect an RBI and seniors Benjamin Scott and Isaac Arellano would each add one run.
On the mound senior Christian McLean would get the complete game shutout allowing seven hits while walking two and striking out eight.
Saturday October 5- Piute (14-7, 9-5 and RPI #5)- Loss: 16-2
In game two the Panthers would face Piute, a team from their own region that they faced twice this season dropping both games.
Stetoson Motte would add offense in this game as well with two hits and two RBI's. Mikey  Vigil would add one hit and one run and sophomore Mcguire Kocks also had one run and one hit.
Pinnacle would use three different pitchers in this one. Shayden Christensen would go two innings giving up six hits, seven runs (four earned), walking two and striking out three. Motte would go one inning surrendering two hits and two earned runs and Vigil would also go one with five hits and seven earned runs.
Check back with Castle Country Radio for more updates on Pinnacle High School sports.