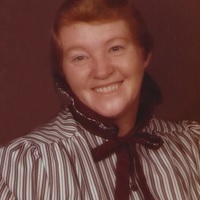 Our loving mother, grandmother, sister and longtime friend, Doris Pierce Hawkins Baldwin, 81, passed away November 1, 2019 at Good Life Senior Living in Price after a lengthy illness.
She was born April 26, 1938 in Price, Utah to Claude Raymond and Edith Marsing Pierce. Doris married Wesley Floyd Hawkins on December 15, 1956 in Carbonville, Utah; their marriage was later solemnized in the Manti Temple on June 20, 1964. "Smokey" preceded her in death on May 27, 1987. On February 10, 1990, Doris married Dan Ned Baldwin in the Manti Temple; he also preceded her in death on November 21, 2009.
Doris was a faithful and devoted member of The Church of Jesus Christ of Latter-day Saints where she served in numerous callings. She was also a proud member of the Daughters of Utah Pioneers. Doris lived for family, and her greatest joy was her children and grandchildren. She loved visiting with family and friends and cherishing the photos of her loved ones. Doris spent countless hours gardening, enjoying the outdoors, camping, fishing, riding horseback and searching for the perfect rock.
She was a tireless worker who loved to keep busy. During her working years she was employed at Safeway, Sherald's, and as a child nutrition specialist at Mont Harmon and Carbon High School. Doris warmed the hearts of all, especially with her cooking. She will be dearly missed by her family and a community of friends.
Doris is survived by her children, Margaret (Brad) Timothy, Marjorie (Brent) Barker, Danna (Dick) Gayler, Kay Hale, Allan Baldwin, Joyce Paschall, Clark Baldwin (deceased), Rory (Juanita) Baldwin, Terry (Rhonda) Baldwin, Vicki (Dennis) Hansen, Brent (Kami) Baldwin, Jeri (Steve) Jacobs; brother, Kenneth (Catherine) Pierce; sisters-in-law, Lola Pierce, Carol Blackburn and Linda Hawkins; brother-in-law, Lawrence Motte; seven grandchildren, 23 great-grandchildren and two great-great-grandchildren.
Doris was preceded in death by her parents, husbands, Wesley "Smokey" Hawkins and Dan Baldwin; brother, Larry Pierce; sister, Claudia Marietti; and many other loving family members.
Funeral service, Tuesday, November 5, 2019, 11:00 a.m., Wellington First Ward Chapel (50 North 100 East). Family will receive friends at Mitchell Funeral Home Monday evening from 6:00-7:00 p.m. and at the church Tuesday one hour prior to service. Interment, Wellington City Cemetery. Arrangements entrusted to Mitchell Funeral Home where friends are always welcome daily and may share memories of Doris online at www.mitchellfuneralhome.net