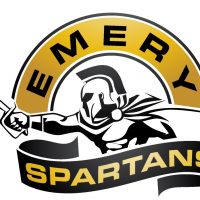 The Emery Spartans opened the new swim season by playing host to the Carbon Dinos and South Sevier Rams Tuesday afternoon at the Emery County Aquatic Center.
Delivering a dynamic performance both the boys and girls claimed first place in a dominating performance. Between both teams the Spartans scored 12 first place finishes out of the 22 events throughout the afternoon.
Asher Beagley led the Emery boy's team with first place finishes in the 50 yard free and 200 yard IM. Beagley later joined Mathew Hanson, Jace Jorgensen and Kegley Terry in the 400 yard free relay, where the group claimed first place with a time of 4:15.66.
Haley Guymon led the Emery Lady Spartans by taking home first place in the 200 yard IM and 100 yard backstroke. Guymon, along with Megan Hess, Kaelee Hooley and Jenny Funk started the meet off with a victory in the 200 yard medley relay.
Hooley also delivered multiple wins for the Lady Spartans, claiming first place in the 200 yard free and 100 yard free.
The Spartans will now take the rest of the week off before returning to the pool on Tuesday, Nov. 12 against Gunnison and Rowland Hall in Emery.
View the complete results below:
Emery-Swim-Results-11-5
| | | |
| --- | --- | --- |
| Place | Team (Boys) | Score |
| 1 | Emery | 342 |
| 2 | Carbon | 172 |
| 3 | South Sevier | 125 |
| | | |
| --- | --- | --- |
| Place | Team (Girls) | Score |
| 1 | Emery | 389 |
| 2 | Carbon | 290 |
| 3 | South Sevier | 20 |