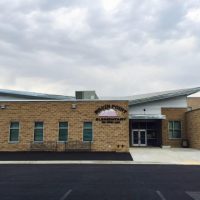 The Carbon School District weekly update shines a light on Bruin Point Elementary in East Carbon. Principal Dina Wise took the time to come into the Castle Country Radio Station to highlight some activities her students have planned for the month.
"For November we have some fun stuff, of course, we're doing the traditional November Food Drive and so the student leaders have set up a competition. They're going to build a tower of food outside each classroom and the class that gets the tallest tower gets a class party and so that's going to be fun," said Dina Wise. All of the food gathered will assist families within the community who are in need during the holidays.
The school's librarian recently applied for a grant which was then awarded to the school. "Our librarian, Mrs. Lauffer wrote a grant through KUED and every student in the school is going to get a book," stated Principal Wise.  This is perfect since the students are working so hard to improve their reading levels this year.
The school is currently hosting a challenge to increase reading by putting up a bulletin board in the lunchroom to track reading. "We're doing throughout the month for every book a student reads they get a leaf, we've got a great big tree in our cafeteria and then at the end of the month we are going to have a read-a-thon. This year we've implemented Literacy Mornings and so we are going to invite our community members and we're also going to invite parents in to come in and during our read-a-thon read with the kids," explained Principal Wise. Hosting such events is not only beneficial for the students but also for community members as they are able to see firsthand how hard the school is working towards improving their reading skills.
If that wasn't enough there will be a fun dinner planned at the school for students and their families. "We're going to have a Family Night on the 25th of November and we're going to invite all of the families in and we're going to provide dinner. So we will have a fully catered dinner turkey or ham we haven't found out yet which we're going to do. Then we are going to present to our community our progress on our school-wide goals and we've made some changes to our behavioral plans, we want to inform parents about that," said Principal Wise. The evening's event will finish off with some fun opportunity games for everyone to play and enjoy.
To keep up on what is taking place at Bruin Point Elementary visit their Facebook page.