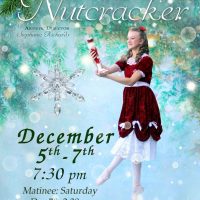 The Castle Valley Civic Ballet have been busy with rehearsals for the last few months and its now time to show off all their hard work. This is the sixth annual performance of The Nutcracker which will begin at 7:30 pm on Thursday, December 5, Friday, December 6 and Saturday, December 7 at Mont Harmon Middle School. There will also be a matinee showing at 2:30 pm on Saturday.
"So this is something that is new this year, we have tickets that can be purchased online and the website for that is www.ticketor.com/CarbonTicket and tickets can be purchased at the door but we're trying to do something new with online purchasing," said Artistic Director, Stephanie Richards. By purchasing tickets online, it allows for the purchaser to pick and reserve their seats for the performance. The advance ticket price is $8.00 per person or $9.00 at the door.
The annual dance performance is put on by local dancers of all ages and this year there is a total of 150 performers. "We've got two new props that are being showcased this year; one is in the battle scene and we have some new scenery design for our winter scene. I'm not going to spoil it because I want everyone to come out and see it but its something that's going to up our game a little bit," said Richards. They are hoping that with each year of the show they will be able to incorporate more costumes, props, backdrops and of course more dancers.
To learn more about Castle Valley Civic Ballet visit their Facebook page.