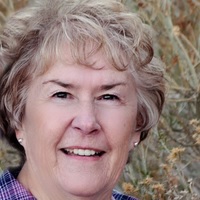 Mila Lea Aitken Roper, our beloved wife, mother, grandmother, sister, aunt, and friend, passed away peacefully on November 24, 2019, surrounded by her loving husband and family.
Mila was born on July 24, 1943, in Driggs, Idaho, a daughter of Lynn A. and Georgia Frances (Ballard) Aitken.  Her childhood was spent making memories with her Papa, Mama, and her sister and best friend, Sharon.  The family enjoyed many adventures together hunting, camping, and taking trips to the pistol and archery ranges to learn to shoot. The sisters learned to ride their bikes together, loved playing piano and accordion duets, and made hollyhock dolls for all of the neighbors.
Mila grew up in Price, Utah, and attended Central and Harding Elementary and Price Jr. High.  She graduated from Carbon High where she met her "best friend" Dale. They were married on June 23, 1962, in Price, Utah. Their marriage was solemnized in the Manti Temple on June 22, 1991. Dale loved his sweetheart "Mia" and together they built an amazing life filled with love, laughter, and adventure. He never left her side as she courageously battled Alzheimer's these past few years.
Mila received her teaching degree from BYU, and taught at Longview Elementary in Murray, UT; Franklin Elementary in Provo, UT; and Ferron Elementary in Ferron, UT.  A master teacher who touched the hearts of countless students, she spent over 30 years impacting the lives of those she taught.  She loved every child that walked through her classroom door, helping each achieve their potential. She reminded herself every day that these children are our future and we need to give them our best, and she truly did just that.
Mila was a member of the Church of Jesus Christ of Latter-day Saints and served in many callings. She loved her Savior and emulated His example by giving her time and talents to those who needed it most.  She was active in her community, helping organize Peach Days and other city activities while Dale served as Ferron City Mayor. She was also active within the Daughters of Utah Pioneers organization.
We all have cherished moments where Mila showed her love for each of us. From monthly lunch dates with her life-long friends from high school, line dancing with the ladies, sewing blankets for her family, going on genealogy trips with her sister through several states, and cheering on her sons and grandchildren at all of their sporting events, we all knew we held a special place deep in her heart. She always had a way of making us feel like we were her favorite.
Her greatest joy in life was her family.  We will miss Sunday dinners, her beautifully drawn artwork, heartfelt chats on the back porch swing, magical Christmas mornings, quilting retreats in Idaho, RAZR rides on Ferron Mountain, cabin trips to Gooseberry, and watching sunsets on the deck in Mesquite. Most of all, we will miss her and look forward to the day when we can all be reunited.
Survived by her devoted husband of 57 years, Dale Roper of Ferron; sons Mike (Kolleen) and Shon (Stephanie), both of Ferron; grandchildren Kacie (Alex) Crawford, Ferron; Juston Roper and Canicia Burton, Price; Whitney (Chance) Huntington, Hyrum; Tyson Roper, Logan; Haidyn Roper, Ferron; great-grandchildren Carmen and Dawson Crawford and Maylie and baby boy Huntington. Also survived by sister, Sharon (Shelton) Wakefield, Mesquite, Nevada; brother and sister-in-law Ron and Pat Roper, Price, UT; sister-in-law Lorna Jane O'Berto, Helper, UT; and many nieces, nephews and extended family members. Preceded in death by her parents; and brothers-in-law, Tony O'Berto and Wayne Roper.
Graveside services, a request of Mila's, will be held on Wednesday, November 27, 2019, 2:30 p.m., Orangeville City Cemetery, Orangeville, UT. Family will be at Mitchell Funeral Home, 233 East Main, Price, Wednesday, 1:00-2:00 p.m., prior to the graveside service. Arrangements entrusted to Mitchell Funeral Home where friends are welcome to share memories at www.mitchellfuneralhome.net.
The family wishes to thank the staff at Wentworth Memory Support, Heirloom Inn, Symbii Hospice, and Pinnacle Nursing & Rehabilitation for their loving care of Mila these past few years.