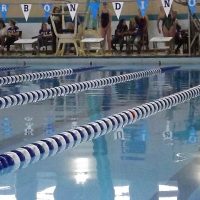 The Carbon Swim Team welcomed other squads from Emery, Gunnison, Grand, Delta, North Sevier and South Sevier on Tuesday. By the end of the day the Dinos would claim a first place on the girls side and a third place for the boys.
In the fifth meet of the year the Lady Dinos are starting to regain the stride that allowed them to claim a state title last year.
The Carbon girls claimed first place in seven events scoring 211 points, Emery would finish in second place with 164 points and Grand county would place third with 72.
Nicole Swasey claimed two individual first place finishes in the 200 yard IM with a time of 2:42.57, her team mate Tyrca Jaramillo finished in second with 2:49.47. Swasey also took first in the 100 yard breaststroke with a time of 1:18.37 just slightly edging Jaramillo's time of 1:18.63.
Other individual events with first place finishers were the 500 yard freestyle in which Emily Jespersen logged a time of 6:54.51, team mate Ashlin Barker would come in second with 7:03.58. And in the 100 yard free the top three spots were claimed by Carbon swimmers. Kacee Barrett took first with a time of 1:01.27. Thalyn Lyman claimed second and Haylie Powell took the third spot.
The relay's were where Carbon really shined with first place finishes in the 200 yard freestyle relay, 200 yard medley and 400 yard freestyle.
In the 200 free the team of Jaramillo, Powell, Sofia Crompton and Barrett logged a first place time of 1:53.53. In the 200 medley Swasey, Crompton, Jaramillo and Lyman finished with a time of 2:06.86. And in the 400 free the team of Baker, Lyman, Jespersen and Barrett claimed first with a time of 4:23.28.
On the boys side Gabe Ibanez claimed a first place finish in the 200 yard individual medley with a time of 2:32.59. Matthew Torres finished with a time of 1:07.50 to earn first place in the 100 yard fly. And the relay team of Torres, Ibanez, Zac Mortensen and Camden Chamberlain logged a time of 2:02.88 to take first place in the 200 medley relay.
The Dinos will take to the pool again on Tuesday when they travel to Emery to take on the Spartans.
Below are the final team scores from Tuesday's meet:
| | | |
| --- | --- | --- |
| Place | Team (Girls) | Score |
| 1 | Carbon | 211 |
| 2 | Emery | 164 |
| 3 | Grand | 72 |
| 4 | Gunnison Valley | 41 |
| 5 | Delta | 13 |
| 6 | South Sevier | 7 |
| | | |
| --- | --- | --- |
| Place | Team (Boys) | Score |
| 1 | Emery | 131 |
| 2 | Grand | 108 |
| 3 | Carbon | 76 |
| 4 | Gunnison Valley | 72 |
| 4 | Delta | 72 |
| 6 | South Sevier | 35 |
| 7 | North Sevier | 12 |