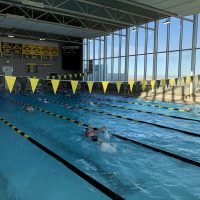 The Emery Swim team traveled to Price for a meet with six other schools on Tuesday. With four first place finishes in individual events and one in a relay, the Spartans did well enough to claim first place on the boys side and a second place finish for the girls.
Haley Guymon claimed a first place finish in the 200 yard freestyle with a time of 2:18.36. Guymon would also take first in the 100 yard backstroke with a time of 1:14.34.
Kaelee Hooley would also garner two first place finishes in the 100 fly with a time of 1:10.91 and the 50 yard free registering 27.43.
The boys team of Elias Morris, Kyler Minchey, Matthew Hanson and Asher Beagley clocked a time of 1:46.40 to claim first place in the 200 freestyle relay.
The Spartans will take to the pool on Tuesday when they will welcome Carbon to Castle Dale.
Below are the final team scores from Tuesday's meet:
| | | |
| --- | --- | --- |
| Place | Team (Girls) | Score |
| 1 | Carbon | 211 |
| 2 | Emery | 164 |
| 3 | Grand | 72 |
| 4 | Gunnison Valley | 41 |
| 5 | Delta | 13 |
| 6 | South Sevier | 7 |
| | | |
| --- | --- | --- |
| Place | Team (Boys) | Score |
| 1 | Emery | 131 |
| 2 | Grand | 108 |
| 3 | Carbon | 76 |
| 4 | Gunnison Valley | 72 |
| 4 | Delta | 72 |
| 6 | South Sevier | 35 |
| 7 | North Sevier | 12 |