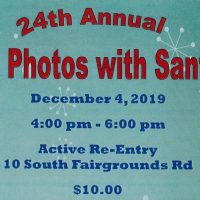 It's time for the 24th Annual Santa PAWS Pet Photos with Santa on December 4 from 4:00 pm to 6:00 pm. Whether your four-legged, furry pet has been naughty or nice bring them for a visit at this pet friendly event taking place at Active Re-Entry located at 10 North Fairgrounds.
"The PAWS Program, PAWS stands for People and Animals Working to Serve and we've been around since 1996, Nancy Bentley was the creator of the program. We currently have six dogs in the program," said PAWS Representative, Katherine Kilbourne. The PAWS organization is a volunteer-based program that uses animals to facilitate positive changes in a wide range of therapeutic settings. This type of service is becoming more accepted, appreciated and valued.
The PAWS program serves a variety of locations throughout Southeastern Utah, helping many age groups, no matter their physical or mental status. "We visit care centers in both Carbon and Emery Counties, Castleview Hospital, Castle Valley Center, other schools, Price City Library, other libraries in the county. It's just amazing how animals can connect with people and people can connect with animals, sometimes easier than they can connect with other people," said Director, Terri Yelonek. There are so many benefits that animals can provide that oftentimes people cannot.
This annual event is open to all members of the community. "It's a fundraiser, we've been doing this for 24 years, ever since the PAWS Program started and it's a fundraiser, the funds actually go back into the community. We use them to buy carnations for the residents at the nursing homes or other things that will go back into the community," said Kilbourne. The cost for the event is $10.00 per picture.
For more information on the PAWS program call Active Re-Entry at (435) 637-4950.