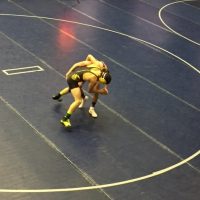 The Emery Spartans opened the wrestling season by easily defeating the Manti Templars at the varsity level 58-30 Tuesday on the road.
Competing in the first and only meet before the Thanksgiving break, the Spartans used a variety of junior varsity wrestlers at the varsity level. The outcome was a solid performance by the team as a whole.
With the new season now off and rolling the Spartans will begin a brutal stretch Wednesday, Dec. 4 with a home duel against the Richfield Wildcats. Emery will then travel to North Sevier on Thursday and then to Salem Hills Tournament on Friday and Saturday.
Below are the complete results from the season opening meet on Tuesday, Nov. 27:
| | | |
| --- | --- | --- |
| Weight | Wrestler | Result |
| 106 | Merrit Meccariello | Loss by pin |
| 113 | Sid Christiansen | Win by pin |
| 120 | Byron Christiansen | Win by pin |
| 126 | Jarin Allen | Win by pin |
| 132 | Dwayne Farley | Win by pin |
| 138 | Kelby Johnson | Win by pin |
| 145 | Tyler Stilson | Loss by pin |
| 152 | Bryar Meccariello | Win by pin |
| 160 | Greg Suyn | Loss by pin |
| 170 | Maddex Christman | Win by pin |
| 182 | Szion Gibson | Win by pin |
| 195 | Hayes Dalton | Win by forfeit |
| 220 | Jexton Woodhouse | Loss by pin |
| 285 | James Richardson | Loss by pin |