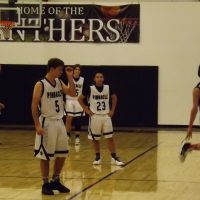 The Pinnacle boys basketball team started 2020 splitting the first two games of the New Year. The boys have struggled a bit lately dropping three out of their last five. They will finish up the non-region part of their schedule this week with games against Diamond Ranch Academy and Water Canyon, two teams from Southern Utah.
Last Friday and Saturday they were on the court against Dugway and Tabiona. They would split the games defeating Dugway on the road and falling to Tabiona at home.
Below is a recap of each game:
Friday January 3- Dugway (2-11 and #20 RPI)- Win: 59-37
Led by Jordan Thomas with 19 points and five rebounds the Panthers faced Dugway for the second time in less than a month. Pinnacle jumped out to a 29-16 halftime lead and would never surrender it after that. Landen Hardy added nine points to go with his three assists and Logan Kerr and Christian Winder both added eight points with Winder leading the team with seven rebounds.
For Dugway Cahil Munn and Seth Ryan each scored nine points and Kota Bear added six.
Saturday January 4- Tabiona (5-6 and #11 RPI)- Loss 68-55
On Saturday the Panthers would face Tabiona. Benjamin Scott led all scorers with 24 points, he also grabbed 10 rebounds and six steals in the effort. Mikey Vigil went off for 18 and Dominic Gutierrez had five points and three rebounds.
For Tabiona Carter Curry would score 21 with five rebounds and two assists. Kade Stewart chipped in with 15 points, four rebounds and six assists and Kolten Iverson had seven points to go with his two rebounds and two assists.
Up next is Diamond Ranch Academy on Tuesday, these two teams met back on December 9 and it was Pinnacle coming away with the overtime victory. Then on Wednesday, they will face Water Canyon.
The Panthers will be home again on January 14 when they will open up Region 19 play against Green River. Tip-off is set for 5:30.