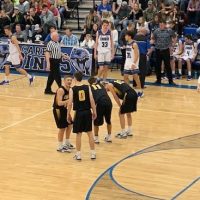 The Emery Spartans held off a second half run from the Carbon Dinos to secure a 57-52 win Friday night in a Region 12 showdown at Carbon High School.
Holding a comfortable lead throughout most of the contest, the Emery lead vanished late in the fourth quarter as Carbon captured a 52-51 lead with just under four minutes to play. The Spartans responded with a 6-0 run to close out the game and earn the win.
Emery senior Brax Jensen poured in a game-high 21 points to go along with seven rebounds and seven assists to lead the Spartans to their first region win of the season. Jensen scored the last six points, including four straight free throws to put the game out of reach.
Fellow senior Kyler Wilstead recorded the game's lone double-double with 17 points and 13 rebounds. Making an impact early on Wilstead scored 10 points in the opening quarter, helping Emery set the tone early.
"They have a lot of size and length inside and they blocked a lot of my shots," said Wilstead. "Tonight was just different with the rivalry game. We played hard, but I thought we played smart at times late."
Jordan Ekker finished with 12 points, all of which came from beyond the arc. Seth Justice added five and Riggs Griffin scored two as Emery improved to 8-3 on the season.
After taking the slim one-point lead Carbon found themselves down three points on two straight late possessions. Each time Carbon attempted a three-point shot to tie, the first from Noah Bradford and the second by Brady Gagon. Despite two good looks the Dinos were unable to force a late tie to send the game to overtime.
Kaleb Nelson poured in a team-high 20 points to go along with eight rebounds to lead the second half comeback. Gagon logged 15 points as he finished with four makes from deep. As a team the Dinos shot a pedestrian 35-percent from the field, but managed to hang around with stiff interior defense.
Junior Keenan Hatch finished with eight points, eight rebounds and five blocks. Merrick Morgan scored six points and Noah Bradford added three.
Friday's loss moves Carbon to 5-6 overall and 0-2 in Region 12 play. The Dinos will next return to the court on Wednesday with the lengthy road trip to Blanding to face the San Juan Broncos.
The Spartans will have little time to enjoy Friday's win as they'll next face the North Sanpete Hawks Saturday evening at the Spartan Center in Castle Dale. Saturday's game will mark the third in four days and the first home contest since Dec. 20.
Live coverage of Saturday's game will begin at 6:40 on KOAL 107.3 FM and 750 AM. The live stream will also be available at castlecountryradio.com.