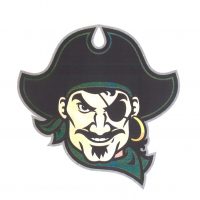 The Green River Pirates opened Region 19 basketball play against the Whitehorse Raiders on Friday night. Though it was a back and forth contest, the Pirates used a 21 point third quarter to pull away and take the victory 69-60.
The Raiders jumped out early in the first quarter 19-17, Green River would come back to take a three point lead into the locker room and came out in the third outscoring Whitehorse by nine, the Raiders tried to make a game out of it but the Pirates would hold on for the win.
Preston Marshall would lead the way for the home team with 15, Rad Hughes added 13 and Weston Hadfield 12 in Green River's first region win.
The Pirates currently sit at 8-4 and #11 in the UHSAA RPI rankings to start the week.
They will travel to Price on Tuesday to face Pinnacle. The Panthers are 7-9 on the season and #14 in the RPI.
Green River will play on their  home floor  again on January 22 when the welcome the Grand Red Devils from Moab for a non-conference match-up.
Game time is set for 7pm.
Check Castle Country Radio for all the latest updates on Green River Pirate athletics.