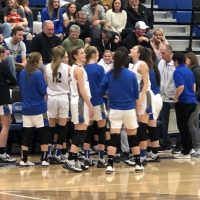 The Carbon Lady Dinos managed to hold off a fourth quarter rally by the San Juan Broncos to earn a 53-50 win Tuesday night in Price.
Holding a comfortable advantage for most of the game, Carbon was forced to overcome a one-point deficit in the final two minutes. Passing another late game test with flying colors, the Lady Dinos improved to 2-1 in Region 12 play.
"We're building confidence that we can be put into any situation and have a good chance of coming out with a win," said head coach Ted Bianco. "Our last two games have been extremely close and our kids have done a heck of a job of playing the way they need to at the end."
Senior Jordan Bianco paced the Lady Dinos with 20 points, six rebounds and two steals. Passing her season average in points, Bianco continued to be a lethal threat from the three-point line as she knocked down three shots from deep.
Fellow senior Abbie Saccomanno continued to stuff the stat sheet as she finished with 17 points, four rebounds and five assists. Cora Lamborn and Diana Morley each finished with six points.
Syannah Ketchum led three San Juan players who finished in double-figures with a team-best 14 points. Tasiah Little ended with 13 and Madison Palmer contributed 11.
Now 2-1 in Region 12 play the Lady Dinos will look to close out the week on a positive with a trip to Moab Thursday to meet the Grand Red Devils. Grand is one of two teams in the division without a win and recently suffered an 89-8 loss to the Emery Spartans.
Thursday's game will mark the first of three straight on the road for Carbon. The team will then travel to meet Richfield and South Sevier next Tuesday and Thursday.