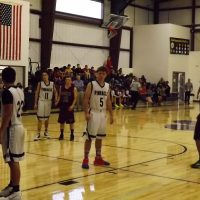 The Pinnacle Panthers had not taken to the court since their loss at the hands of the Green River Pirates on January 14. The Panthers have had an up and down season sitting at 8-11 and are ranked at No. 15 in the Utah High School Activities Association' RPI.
The Panthers are headed into the final four games of the season as they prepare for the State Championship Tournament which takes place in about one month February 26-29 in Richfield at the Sevier Valley Center.
Below is a recap of both games:
January 24- Whitehorse 74-61 Loss
In the first of back-to-back road contests the Panthers would take on the Whitehorse Raiders (No. 11, 8-9) and even though Pinnacle would only trail by a score of 41-35 at halftime the Raiders would be methodical and would outpace the Panthers taking the win.
Landen Hardy would lead Pinnacle in this one with 12 points to go with five rebounds and three steals. Benjamin Scott added 10, grabbed six rebounds and three steals and Christian Winder had nine points and three rebounds in the loss.
January 25- Monument Valley 65-61 Win
On Saturday the Panthers would take on the Monument Valley Cougars (No. 13, 4-10) on their home floor. This one was a back and forth contest with the lead alternating by quarter. No team would lead by more than four points at the end of each period. When the dust settled Pinnacle walked away with the win.
Christian Winder led the way for Pinnacle with 16 points and grabbing 12 rebounds to go with three steals. Benjamin Scott had 13 with six rebounds, four assists and three steals. And Dominic Gutierrez scored 12 with three rebounds and two steals.
Next up for the Panthers is a road contest on February 4 against the Green River Pirates (No. 8 11-5). These two teams faced off on January 14 with Green River getting the 80-40 victory. They will have one more road game on February 8 in Wendover before coming home for their final two games of the regular season.