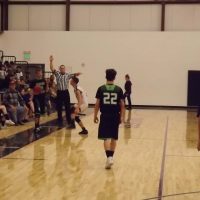 The Green River and Pinnacle boy's basketball teams met up on Tuesday night for the final time this season. The Pirates have won five of their last seven, the Panthers three of their last seven. These to teams met up back in January in Price and the Pirates walked away with an 80-40 victory. This time around it would be a more competitive contest but the result would be the same as Green River captured the 78-63 win.
The Panthers would keep it close in the early going but would come out in the second quarter scoring just six points to the Pirates 19. Pinnacle found offense in the second half putting up 22 points in each quarter but the damage from the first half had already been done and the Panthers would suffer the loss.
Green River will host their final regular season game this Friday as they will welcome Monument Valley. The Pirates defeated the Cougars on January 24, 64-60. They will then travel to Castle Dale on Saturday to face the Emery Spartans in Coach Todd Jeffs final regular season home game. This game will be available on KOAL 107.3 FM and 750 AM as well as streaming at castlecountryradio.com, pre-game will start at 6:30 and tip-off is set for 7.
As for the Panthers they will travel to Wendover on Friday for a meeting with the Wildcats. Back on November 26, these two teams faced off in Price and Wendover came out with the victory. After Friday's game Pinnacle will be home for their final two regular season games against Monument Valley and Whitehorse. This will be the final time in the regular season that Pinnacle will face these teams. They faced Whitehorse on January 24 falling in that game 74-61. Monument Valley and the Panthers faced off on January 25 with Pinnacle taking the win 65-61.