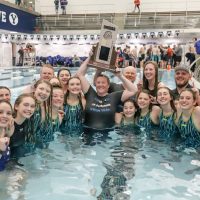 The Carbon Lady Dinos repeated as 3A State Champions in the swimming pool, topping a talented pool of competition Friday and Saturday in Provo at Brigham Young University.
Finishing with 309 points Carbon easily topped second place Richfield, who ended with 273. Rowland Hall finished third with 199, while Emery and Judge Memorial rounded out the top five.
The lone first-place finish came from the 200 yard medley relay team, who also broke the current school record in the process. Comprised of Nicole Swasey, Tyrca Jaramillo, Sofia Crompton and Emily Jespersen, the group ended with a time of 2:02.00.
Another school record would fall later in the event as the 200 free relay team consisting of Thalyn Lyman, Haylie Powell, Kacee Barrett and Crompton finished in 1:47.45.
Barrett added to her impressive senior campaign with a second-place finish in the 100 yard freestyle. She later joined Lyman, Jespersen and Jaramillo for another second-place nod, this time in the 400 freestyle.
Depth scoring once again played an important role in the Lady Dinos repeat bid. As a team Carbon had fourth-place finishers in four separate events.
Saturday's state championship performance caps another impressive season for Carbon that began back on Nov. 1. The Lady Dinos recently finished second in the Region 12 championship on Jan. 23.
Last year Carbon earned their first state title ever in the pool by edging Rowland Hall by one point.
Adding to the afternoon accomplishments, second-year head coach Allie Chamberlain was also named Coach of the Year.
Below are the top finishes from the Carbon Lady Dinos at the 3A State Championship meet:
200 Yard Medley Relay:
1st place- 2:02.00
Nicole Swasey, Tyrca Jaramillo, Sofia Crompton, Emily Jespersen.
200 Yard Freestyle:
Kacee Barrett, 4th place- 2:14.04
50 Yard Freestyle:
Thalyn Lyman, 4th place- 26.48
100 Butterfly:
Sofia Crompton, 4th place- 1:07.07
100 Yard Freestyle:
2nd place- 1:47.45
Thalyn Lyman, Haylie Powell, Sofia Crompton, Kacee Barrett
100 Yard Breastroke:
Tyrca Jaramillo, 4th place- 1:14.34
Nicole Swasey, 5th place- 1:14.77
400 Freestyle:
2nd place- 4:02.18
Kacee Barrett, Thalyn Lyman, Emily Jespersen, Tyrca Jaramillo.