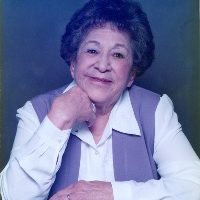 Matilda (Tillie) Mary Martinez, 94, our beloved mother, grandmother, great-grandmother, sister, aunt, and friend, passed away peacefully on Tuesday, February 11, 2020.
Tillie was a kind-hearted, unfailingly generous, and devoutly Catholic woman, who loved her family and friends with all of her heart ("con todo mi corazόn," she would say).
Tillie was born on January 20, 1926 in Portland, Colorado, the second of the seven children of Longino and Petra Rojas. Tillie spent most of her childhood and early adult life in Spring Canyon and the coal mining camps of Carbon County, Utah, where she loved to play baseball and met the love of her life, Albert Martinez. Tillie and Albert married and later settled in Helper, Utah, where they raised their three children. Tillie worked for 17 years as the custodian and groundskeeper for the Helper Post Office, where her dedication and whole-hearted work ethic twice earned her recognition for her immaculate caretaking of the office grounds. In 1991, she was recognized by the Salt Lake Tribune's Civic Beautification Program, and in 1992, she received the U.S. Postal Service's "Volunteer of the Year" Award. Tillie loved cooking fideo, chili verde, and enchiladas for her family, and she enjoyed watching westerns (especially those featuring her favorite actor, John Wayne).
Tillie is survived by daughters, Juanita (Frank Jr.) Feichko and Deeann C. Martinez; brother, Louis Rojas; grandchildren, Tyann (Forrest) Caul, NyCole (Brad) Shaw, Mandy (Jared) Gallegos, Holli Feichko (James Miller), Heather (Steven) Odendahl, Heidi (Jason) Britton, and Hailey (Chass) Henrie; great-grandchildren, Jordan Keller, Christopher Shaw, Miranda Shaw, Inez Johnson, Logan Odendahl, Chloe Odendahl, Anna Petra Miller, Leo Miller, Hope Britton, and Jackson Britton; sister-in-law, Andrea Martinez; dear friends Bernie Mascarenas and Stella Guiterrez; and many beloved family members and friends.
Preceded in death by her husband, Albert Martinez; son, Martin Martinez; siblings, Julia Gonzales, Manuel Rojas, Alvero (Morie) Rojas, Max Rojas, and Reva Truba; dear friend ("partner in crime") Sally Montoya; and many family members and friends.
The family wishes to give special thanks to Community Nursing Services, Dr. Sterling Potter, and Pinnacle Nursing & Rehabilitation Center for their tender care of Tillie over these last few weeks.
Funeral Mass, Monday, February 17, 2020, 10:00 a.m., St. Anthony Catholic Church in Helper, Utah. Vigil service, Sunday evening, 7:00 p.m. at the church. Family will receive friends at St. Anthony's one hour prior to services on Sunday and Monday. Committal service, Mt. View Cemetery, Helper, Utah. Arrangements entrusted to Mitchell Funeral Home where friends are always welcome daily and may share memories of Tillie online at www.mitchellfuneralhome.net.