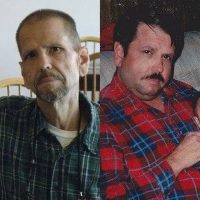 Steve Laude passed away peacefully watching his favorite western "Gunsmoke" on March 20, 2020. He was
Steve was born September 12, 1958 in Yuma, Arizona to Ruth and Edwin Laude.  They moved to Coolidge, Arizona where Steve made many memories. His family later relocated to Price, Utah.  Steve spent the rest of his life in the Carbon County area fishing, hunting, running many businesses, and working as a disc jockey under the pseudonym Steve Michaels.
Steve worked for the Carbon County Sheriff's Office for eight years where he met lifelong friends.  Later, he started his foundation "The Officer Down Fund" in honor of officers that suffered or lost their lives in the line of duty.  Steve's greatest joy and honor was becoming a grandpa; his grandchildren became the loves of his life.  They were always hanging around their grandpa and listening to his old country music and learning how to garden. They were excited to talk to papa Steve on the phone. He was always so proud of the people they had become.
Steve fought for the opportunity to see his granddaughter Anecia once more before he passed. Unfortunately he never was able to, and he never understood why.  Steve told his son before he passed, "I always got along better with the older generations," and up to his passing helped the elderly in need in any way he could, even if it was just taking them to the store.
A special thanks to his friends in Helper that looked after him and the outpouring of support. "It seems like we're just in an unsettling time right now," he said.
Steve is survived by his son, Steven (Sadie) Laude; stepdaughter, Corrine; brother, Larry (Leann) Laude, Texas, son-in-law, Mario Alaniz; grandchildren, David, Patch, Alisha, Corrissa, Anecia, Rubie, and Roman.
Steve was preceded in death by his daughter, Brittany; his mother and father, Ruth and Edwin; granddaughter, Cordelia; childhood caregivers, Alfred and Maggie; best and loyal dog, Buddy; and many of his fellow officers that he served with.
Due to the current pandemic, the memorial for Steve will be held later this summer in Huntington Canyon, a place he wanted to spend forever.  In lieu of flowers, please take the opportunity to help each other, in honor of Steve.  We love you.
Arrangements entrusted to Mitchell Funeral Home of Price where friends are always welcome daily and may share memories of Steven online at www.mitchellfuneralhome.net.