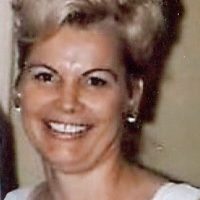 Nadine Lenore Collier Leonard Marx, 91, passed away on Tuesday, May 12, 2020, at the Heirloom Inn in Price, Utah.
Nadine was born on December 17, 1928, in the small mining town of Hartman, Johnson, Arkansas, to John Walter Collier and Bessie Lee Linton.  Her parents divorced, and her mother married John Bernard Rogers.  Her family moved to Price, Utah, for her stepfather to work in the coal mines.
On March 13, 1947, she married Ray H.J. Leonard, in Price.  To this union were born two daughters, Lana (Kenn) Kofford, Teri (Thomas) McElprang, and two sons, Jim (Debbie) Shenk, and Patrick (Charlotte) Leonard. Ray and Nadine later divorced, and she married Kenneth Leroy Marx and she was blessed with step-children, Bernice, Gary and Lorna.
Nadine always wanted to be a teacher, so with three small children in tow, she graduated from the University of Utah with a bachelor's degree in elementary education.  She taught at the elementary schools at Scofield, Hiawatha, Reeves, and Durrant.  She taught for thirty-one years, and after retiring, she was a substitute teacher for ten years.  She, also, taught student teachers for three years.  She loved teaching!
Because of her humble beginnings, she was always willing to donate to a good cause.  She had a kind and loving heart.  Humility and strength were some of her attributes, but charity illuminated her soul.
Nadine was a member of the Church of Jesus Christ of Latter-day Saints.
She is survived by her children, ten grandchildren, twenty-eight great-grandchildren, and three great-great grandchildren.
She was preceded in death by her parents, both husbands, siblings: Mozelle McIntosh, Marvin Doyle Collier, Walter Ragon Collier, Bruce Bernard Rogers, and her beloved Granny.
Words cannot express how grateful her family is to the Heirloom Inn, Rocky Mountain Hospice and their employees. So much love, care, and concern were given to our mother during her seven year stay.  You are angels here on earth.  God bless.
Funeral service, Friday, May 15, 2020, 10:00 a.m., Mitchell Funeral Home.  Family will receive friends at Mitchell Funeral Home Thursday evening from 6:00-7:00 p.m. and Friday one hour prior to services.  Interment Price City Cemetery. Arrangements entrusted to Mitchell Funeral Home where friends are welcome to share memories online at www.mitchellfuneralhome.net. The service will be streamed live on Mitchell Funeral Home's Facebook page.