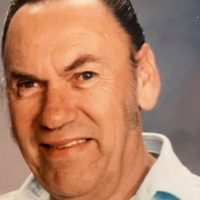 Aaron Carl Jacobson IV (Jake), 85, peacefully passed away of natural causes at home surrounded by his family on Monday, May 11, 2020.
Aaron was born June 5, 1934, the youngest of 3 children born to Laura D. Emery Jacobson and Aaron C. Jacobson III.
Aaron enlisted in the United States Air Force on 10/06/1951. During the Korean War he served in many locations including Greenland and Iceland. On February 23, 1957, he married his sweetheart and love of his life, Ronnae C. Mahon in the Elko County Court House. They lived mostly in Murray, Utah while raising their three children.
Aaron spent most of his working years as a mechanic, working with many dealerships in Salt Lake City. He also worked for Murray City Power as a lineman. Later, Aaron went to work for the U.S. Post Office in Elko, Nevada, where he remained until he retired. He made many lifelong friends along the way.  After retiring and a visit to Yuma Arizona, he was happy to become a snowbird, going to Yuma each October and returning each March. Aaron loved camping, fishing and traveling with friends and family. His favorite trips included the Oregon Coast and deep sea fishing.
He is survived by his children, Cindy (Terry) Bills, David "Butch" Jacobson, and Lauri (Jon) Davis; sister, Delone Shupe, in-laws, Keith "Bud" (Karen) Mahon and Sue (Ken) McAffee; 11 grandchildren, many great grandchildren, and multiple nieces & nephews.
Aaron is preceded in death by his sweetheart, Ronnie Jacobson, mother, Laura D. Nielson, father, Aaron C. Jacobson III, in-laws, Ruth & Rod Mahon, brother, Gerald (Bud) Jacobson, brother-in-law Donald Shupe, sister-in-law Patt Conover and grandson Aaron David Jacobson.
The family would like to thank Brooke and Harmony Hospice for all their care.
Graveside service, Friday, May 15, 2020, 11:00 a.m., at the Murray City Cemetery where a viewing will take place at the cemetery from 10:30-10:50 a.m.  Arrangements entrusted to Mitchell Funeral Home of Price where friends are always welcome daily and may share memories online at www.mitchellfuneralhome.net.
Due to COVID-19 restrictions, there will be no compassionate service meal following the service.
READ LESS