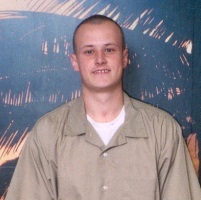 Our precious, loving son, brother, and father, James Dee Howerton, 38, passed away peacefully at home on May 12, 2020.
He was born August, 26, 1981, in Knoxville, Tennessee to Brenda and Parr Howerton.
James was a very intelligent and loving young man. Some of his favorite pastimes were listening to his music, lifting weights, and cooking in the kitchen. Through the years, James was given the nickname "Howie" by friends and classmates; a name that stuck. Although James was called "Howie" by friends, "Jimbo" by his siblings, nieces, and nephews, he was called "Jimmy" by his beautiful, loving, caring, wonderful mother, Brenda Howerton. A privilege only she enjoyed, as James had established in grade school, by telling his teachers, only his mother could call him "Jimmy."
James loved watching movies with his children, Dannielle and Jordan. He loved being around little children, who seemed to be drawn to him. Driving was a passion that he enjoyed as well, and he found it hard to stay in one place for too long. Hard work was in his nature, he enjoyed every minute of his work in the coal mines and was among the volunteers who helped with recovery efforts after the Crandall Canyon Mine Disaster. Whenever he began a project he wanted it done now. Watching football was also among his favorite activities and he enjoyed watching his favorite team, the Dallas Cowboys, who he loved. James had beautiful sky blue eyes, and handsome dimples when he smiled.
He is survived by his beautiful, amazing, wonderful, and caring mother Brenda; his handsome, loving son Jordan; beautiful daughter, Dannielle; the mother of his children, Crystal; sisters, Heather (Mack) Isaacson and their three children, April (Jesse) Stewart and their six children; brother, Nathan Howerton and his three children; aunts, uncles, and cousins.
James is preceded in death by his grandparents, Jewel and Dee Parr and Neil and Virgil Howerton; uncle, Don Parr; and niece, Maykala.
Funeral service, Saturday, May 16, 2020, 11:00 a.m., Mitchell Funeral Home where the family will receive friends an hour prior to the service. Interment, East Carbon City Cemetery. Arrangements entrusted to Mitchell Funeral Home of Price where friends are always welcome daily and my share memories online at www.mitchellfuneralhome.net.