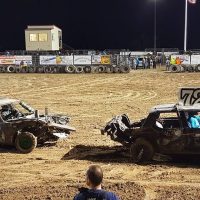 The annual Carbon County Search and Rescue Demolition Derby has been canceled due to concerns surrounding the spread of COVID-19.
"We have been carefully watching the Covid 19 pandemic develop and feel that for the safety of our Search and Rescue members as well as the loyal fans of derby this is necessary this year," said Carbon County Sheriff Jeff Wood in a statement. "We do not feel that we will be able to provide a safe environment for the fans to watch the event and still maintain social distancing guidelines."
The derby, which has become a Carbon County tradition, is the one true fundraiser for the Carbon County Search and Rescue team. The money raised from the event funds the operations throughout the year. Despite not having this year's event, the department will continue its daily operations.
Each year businesses throughout the county help put on the event. Several businesses in the local area have been affected by the COVID-19 pandemic. Sheriff Wood cited that as another reason the event would be canceled, as the department felt it was inappropriate to seek donations.
"We anticipate having an awesome show next year and have already begun planning this event," Wood's statement continued. "We greatly appreciate our community and the overwhelming support that has been shown to the Sheriff's Office and our Search and Rescue."
For the past three years the Demolition Derby has ran in conjunction with the Carbon County Fair, which was also canceled earlier this week.