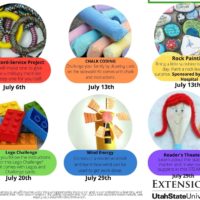 The Carbon County 4-H Program is gearing up for another session of the Grab & Go Projects for children during the month of July. 4-H Coordinator, DeLayna Barr took some time to stop by Castle Country Radio to talk about the upcoming projects.
'We're doing some Grab & Go Projects, 4-H's creed is to learn by doing and so we've got kits pre-made that you can come pick up on Mondays and you'll have so many fun things, a lot of them at STEM projects. I'll tell you a few of them that have come up in July. We're going to do paracord bracelet, and this is going to be a service, so the kids will make one for themselves but then they will make one for the military," stated Barr. STEM is an acronym for Science, Technology, Engineering and Mathematics which is a curriculum that creates critical thinkers. To reserve your Grab & Go Projects, go to ut.4honline.com
The following is the schedule of the second series of Grab & Go Projects:
Paracord Bracelet    Pick-up date: July 6           $2.00
Chalk Coding          Pick-up date: July 13         $2.00
Rock Painting          Pick-up date: July 13         FREE / SPONSORED BY CASTLEVIEW HOSPITAL
Wind Energy           Pick-up date: July 20         $2.00
Lego Challenge       Pick-up date: July 27         $2.00
Reader's Theatre     Pick-up date: July 27         $2.00
There will be a Summer Leadership Camp taking place on July 9 from 9:00 am to 1:30 pm at the Wellington City Park for youth ages 8 to 18 years old. "So, this is teen-led, the teenagers of Teen Council will be doing the workshops and they've been working on this since January. We believe in leadership is an important thing to teach kids, to be a leader in your community, homes and all places," said Barr. Scheduled for the camp are guest speakers, group games, leadership workshops and an opportunity to participate in a service project. To register for the Summer Leadership Camp visit ut.4honline.com and the cost is $12.00 for 4-H Members.
To keep posted with the Carbon County 4-H Program visit their Facebook page. Any further questions may be answered by calling Utah State University Extension Office at (435) 636-3233 or stop by the office located inside the Carbon County Administration Building at 751 East 100 North, Suite 1700.