On Saturday morning, April 30th, 2016, Price City Police Officer Randy Salyer responded to a reported burglary at the Smith's Food King Fuel Center kiosk.  Officer Salyer's investigation included recovery of surveillance video from the center.
A fire extinguisher was allegedly used to break the locking mechanism on the door of the business.  Two un-named male juveniles allegedly made entry into the kiosk sometime around 2:00 a.m.  The juveniles allegedly stole a variety of tobacco products as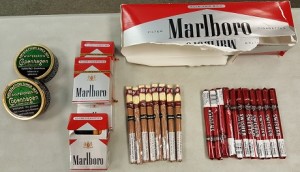 well as some miscellaneous candy.
The investigation was immediately assigned to S.R.O. (School Resource Officer) Brian Judd who was able to identify each of the two juvenile suspects.  SRO Judd was able to contact each juvenile and their respective guardians.  The juveniles, one 13 and the other 14 years of age, allegedly were cooperative with Judd.
Some of the stolen merchandise was also recovered.  Both juveniles were taken to the Carbon County Youth Corrections detention facility.  They will be referred to Juvenile Court for a Felony charge of Burglary of a Business (unlawful entry into a business to commit a theft), a Misdemeanor charge of Criminal Mischief (for the damage caused to the kiosk door, etc.), and another charge for Possession/Use of Tobacco by a Minor.
The Price City Police Department recommends that all local businesses invest in a quality video surveillance system.