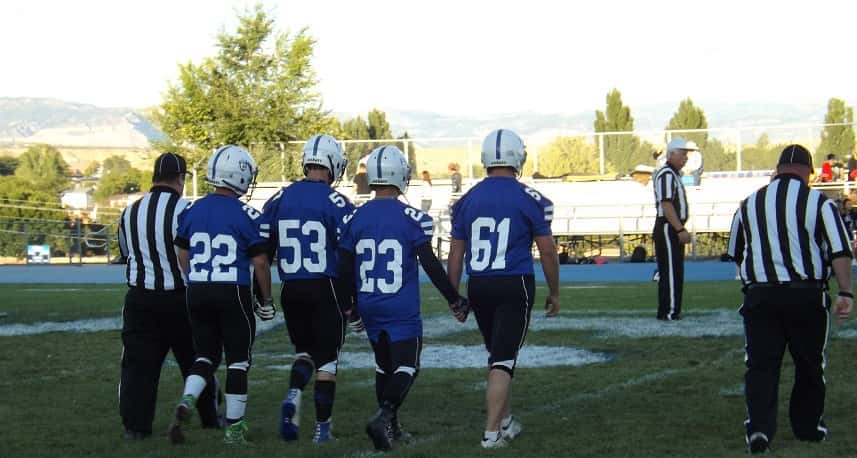 After a spring of uncertainty the summer off-season program is underway for the Carbon High School football team and first year head coach Phil Howa.
Named head coach of the program in March, Howa has spent the last three months putting together a coaching staff and recruiting players to join the team. With the season a little less than two months away, the turnout has been spectacular.
"Its been awesome to see the amount of kids that we are getting regularly," said a smiling coach Howa. "The attitudes are good, the coaches are excited and we are getting kids some reps. We are working on basic fundamentals and getting them to come together as a team."
The weight room at Carbon High School is open for multiple sessions each day. The emphasis has been conditioning, finding a love for the sport and the work that goes into building a winner.
On the field workouts have also begun. To Howa's delight, several first year players have decided to participate, meaning the Dinos are poised to feature their largest senior class in years. Because of this, Howa has decided to pace his team and focus on fundamentals.
"We had an opportunity to go to a seven-on-seven camp, but I didn't think we had covered enough to represent ourselves well," Howa said when asked about the off-season programs. "We'll do a scrimmage with Emery in the middle of July. I'm excited for that and I think the kids are as well."
This season's team will have several familiar faces on the sidelines as assistant coaches. Many of last year's staff was retained and will have say in what goes into the team's game plan.
"My main focus has been to get them to buy into let them know I don't have to call all of the shots," Howa said. "I feel like I have the right backup. We are willing to share what we know with each other and that's big in becoming successful."
Howa and the coaching staff will continue to welcome in Carbon students to potentially play in the upcoming season. It has been made clear that no cuts will be made, giving everyone an opportunity to see what the new philosophy entails.
Throughout the summer weight training is open and will continue to take place Mondays and Wednesdays from 6:00 to 8:00 a.m., and again from 6:00-8:00 p.m.. The room will also be open Tuesdays and Thursdays from 7:00 to 8:00 p.m..
"I don't want my kids to be behind because they have a new coach," Howa said. "I have a great group of kids right now and I think that's only going to grow. Can I guarantee we are going to win? I don't think any coach can do that. But, I know these kids and this coaching staff are not going to quit."
Carbon High School football will once again air on KRPX 95.3 the Peak, beginning with the season opener on August 14 against American Leadership Academy.
Listen to Coach Howa's complete interview below: