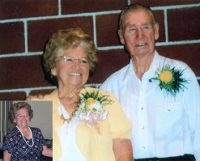 Our beautiful mother and grandmother, RaeDell Long Pearson passed away at the age of 92 on July 28, 2020 at the Heirloom Inn.
She was born to Duane Alonzo and AnnaBell Phillips Long in Salina, Utah on June 7, 1928.
Married George W. Pearson, Jr. on March 6, 1947 in Castle Gate, Utah and their marriage was solemnized in the Manti temple on their anniversary in 1953.
RaeDell was an active member of the Church of Jesus Christ of Latter-day Saints and served in many callings. She was generous, hardworking, and loved to have celebrations and parties. She enjoyed camping, quilting, dancing with "Daddy" and leaving "Pearson" mints out for all to enjoy.
The family would like to thank the staff at the Heirloom Inn for their exceptional love, kindness, friendship and care.
Survived by her children, DeAnna (Boyd) Rhodes, Nancy (Bob) Jones, Elsie (Bill) Riddle, Bill (Peggy) Pearson, Loni (Jerry) Giraud, LaDawn (Harry) Mari, Christine (Rod) Hooley; sister, Marvel (Brent) Nelson; 37 grandchildren, 61 great grandchildren, 13 great great grandchildren.
Preceded in death by her husband, George W. Pearson, Jr.; parents; infant brother, Billy; sisters, Lois and Norene; sons, Duane George Pearson and Alan Long Pearson; great grandchild, Rachel.
Funeral service, Saturday, August 1, 2020, 11:00 a.m., Mitchell Funeral Home where the family will receive friends one hour prior to service. Interment, Cliffview Cemetery. Arrangements entrusted to Mitchell Funeral Home of Price where friends are always welcome daily and may share memories online at www.mitchellfuneralhome.net.