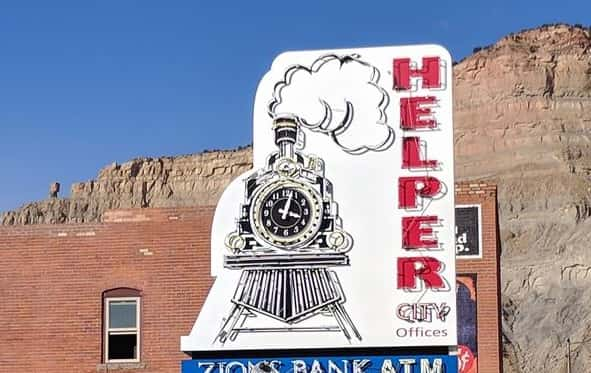 Castle County Radio was able to catch up with Helper City Mayor Lenise Peterman to discuss the funding they recently received for new festival lights along Main Street.
"The Helper Arts, Music & Film Festival Board in celebrating their 25th year decided they would like to do something for Helper City because we have been a strategic partner to the board all these years hosting the festival and working with them and they very kindly decided a donation to replace Christmas lighting would be beneficial to everything," said Mayor Peterman. The city doesn't limit the use of the downtown lighting for just Christmas but they also use it for their monthly First Friday events and during the annual arts festival.
The Helper Arts, Music & Film Festival Board kick-started the funds to upgrade the downtown lighting project with $10,000.00. It was then matched through a Union Pacific grant which enables the city to hire the company, Modern Display to complete the entire project. "That's a group out of Salt Lake City who does lighting for a profession for a living, and we wanted to make sure these lights were hung and really enhance the city and the atmosphere," explained Mayor Peterman.  The lights that are currently used are old, outdated, weathered, and/or damaged.
When the lights were originally installed, most of the buildings on Main Street were vacant, and with the growth of Main Street over the last few years the city will need to reach out to the businesses currently located on Main Street. "So we need to get out and talk to the businesses, understand what their requirements may be as well as the fact that if we are fortunate enough to put lights on the building, we want to make sure that the owners are accepting of that and will take care of them and just not decide one year to take them down and throw them away," said Mayor Peterman. Although the city is in the early planning stages, they hope to have the project completed in time for the Christmas Festival.
The River Restoration Project is seeing its hard work pay off as many folks are out enjoying recreational activities along the river. "What I have envisioned for the river, the river restoration work that we've done is for people to engage it as a recreational outlet and with the COVID situation and people not traveling and staying home more it's a definite outlet for them to do something locally that's different. It's been so great to see people really enjoying themselves on the river," stated Mayor Peterman. Folks can float down the river from Central Commission down to the beach area behind Balance Rocky Eatery & Pub. People utilizing the river should take safety precautions when recreating.
To keep up to date on Helper City visit their website or Facebook page.