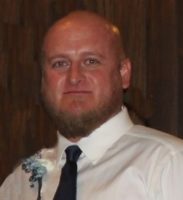 Clayton Rue Bell passed away September 13, 2020 at his home. He was born April 15, 1982 to Rue and Charlene Bell in Price, Utah and grew up in Orangeville, Utah.
Clayton knew everyone. He enjoyed lending a hand and sharing his experience with others especially with the people he cared about.
He was a natural born dare devil and lived life hard. He enjoyed fishing, hunting, motorcycles and was an outdoorsman. He loved keeping busy with projects and tinkering. He was very mechanical and would examine the world around him with spirited curiosity which sometimes led to trouble.
Most of all, he loved his boys!
Clayton is survived by his parents, his three boys Kesler, Kase and Kannon Bell, their mother Candice Lyons, his fiance Angela Anderson Davis and her daughters KayDee (Riley) Rasmussen and Aubrey Anderson Davis and his siblings Andrea (Donny) Taylor of Gilbert, AZ, Katlin Bell of Orangeville, UT and Kyle (Brandy) Bell of Huntington, UT.
A viewing will be held Friday, September 18, 2020 at Fausett Mortuary in Castle Dale from 6:00-8:00 p.m. A graveside service will be held Saturday, September 19, 2020 at 11:00 a.m. at the Orangeville City Cemetery under the direction of Fausett Mortuary.
Family and friends may sign the online guestbook and share memories of Clayton at www.fausettmortuary.com.