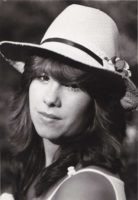 Linda Marie Komar Fielder passed away October 11, 2020 in her home in Castle Dale, Utah. She was born March 13, 1966 in Paradise, California to John and Florence Armstrong Komar. She married Dale Howard Fielder on May 4, 1994.
She was the biggest sweetheart ever. She always put others before herself. She cared for her family very much and would give and do anything in the world to cheer someone up or make them smile. She was a very loving mother, grandma, and wife. Always had a smile on her face. Very inviting! She didn't care who you were she would invite you into her home and made sure you didn't leave without a full belly making sure you knew by saying "if you leave hungry it was your own fault." And lots of laughs and hugs.
Her favorite things to ever do included cooking, camping, spending time with the family and fishing. She made a lot of friends when she worked at Food Ranch and made a great impact on everyone's lives. And she loved her grandkids more than anything. She was so gentle even the thought of violence would make her sick.
She was loved by so many! And will be greatly missed by so many people.
She is survived by her husband Dale Fielder, daughter Justine (Cody) Westenskow, son Dallas (Shinia Maxfield) Fielder, 6 grandchildren Elizabith Marie Fielder, Sommer Rose Fielder, Cody Dale Westenskow, WayLynn Devon Zumba, Barrett Cal Westenskow, Wyatt Charles Howard Fielder, and brother Jimmy (Kat) Komar. Preceded in death by her parents, and brother Rod Komar.
A funeral service will be held on Tuesday, October 20, 2020 at 11:00 a.m. at Fausett Mortuary, 720 North Center Street, Castle Dale, Utah. Prior to the service, there will be a viewing 9:00 to 10:45 a.m. at Fausett Mortuary. Services are in the care of Fausett Mortuary.
Friends may sign the guest book and share memories of Linda at www.fausettmortuary.com.