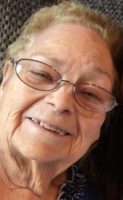 Claudette Shiner Hayward 81 passed away peacefully at her home on October 22, 2020
Momma was born in Hiawatha Utah to Grant Averett and Francis Davis Jensen.
She Married Ward Dee Hayward on November 12, 1954 in Cleveland, Utah. They were sealed in the Salt Lake City, Utah Temple.
Momma grew up in Cleveland, Utah, but spent time in several other places while her dad was in the military. After marrying Ward she followed him in the Airforce. They lived in many places but found a home in Castle Dale, Utah in 1972. Together her and Ward raised 6 children. She had many jobs but her favorite job was teaching kids to read at Orangeville and Castle Dale elementary. She loved watching kids eyes light up when they understood. Her love for books carried over to the Castle Dale Elementary library. She loved helping kids find good books to love. She loved children. Momma read everyday from the time she was little. Momma loved coaching softball and competing against her sister's teams. She was LDS and served as a primary teacher for many years. She loved serving in the Manti Temple and loved the knowledge it gave her.
Momma loved everyone she met. She was so loved by so many. Her love of books and children will be carried on for many generations.
She is survived by her children Jeff (Dinah) Hayward of Castle Dale, Nathan Hayward of Price, Carleen (David) Hoschouer of Wellington, Melissa (Aaron) Haddick of Billings Montana, 24 Grandchildren 36 Great Grandchildren and 2 Great Great Grandchildren.
She is preceded in death by her husband Ward, daughter Lori Adams and Nikki Hayward. Her parents Grant Averett and Francis Davis Jensen and step parents Ruby Averett and Carol Jensen and in laws Lew and Angeline Hayward. She was the last surviving member of her family and her husband's family.
There will be a public viewing held on Monday October 26, 2020 from 11:30 to 12:45 p.m. at Fausett Mortuary 720 North Center Street, Castle Dale, Utah. Family funeral services will be held on at 1:00 p.m. Please join us for live streaming services on the Fausett Mortuary Facebook page. Services are in the care of Fausett Mortuary.
Friends may sign the guest book and share memories of Claudette at www.fausettmortuary.com.