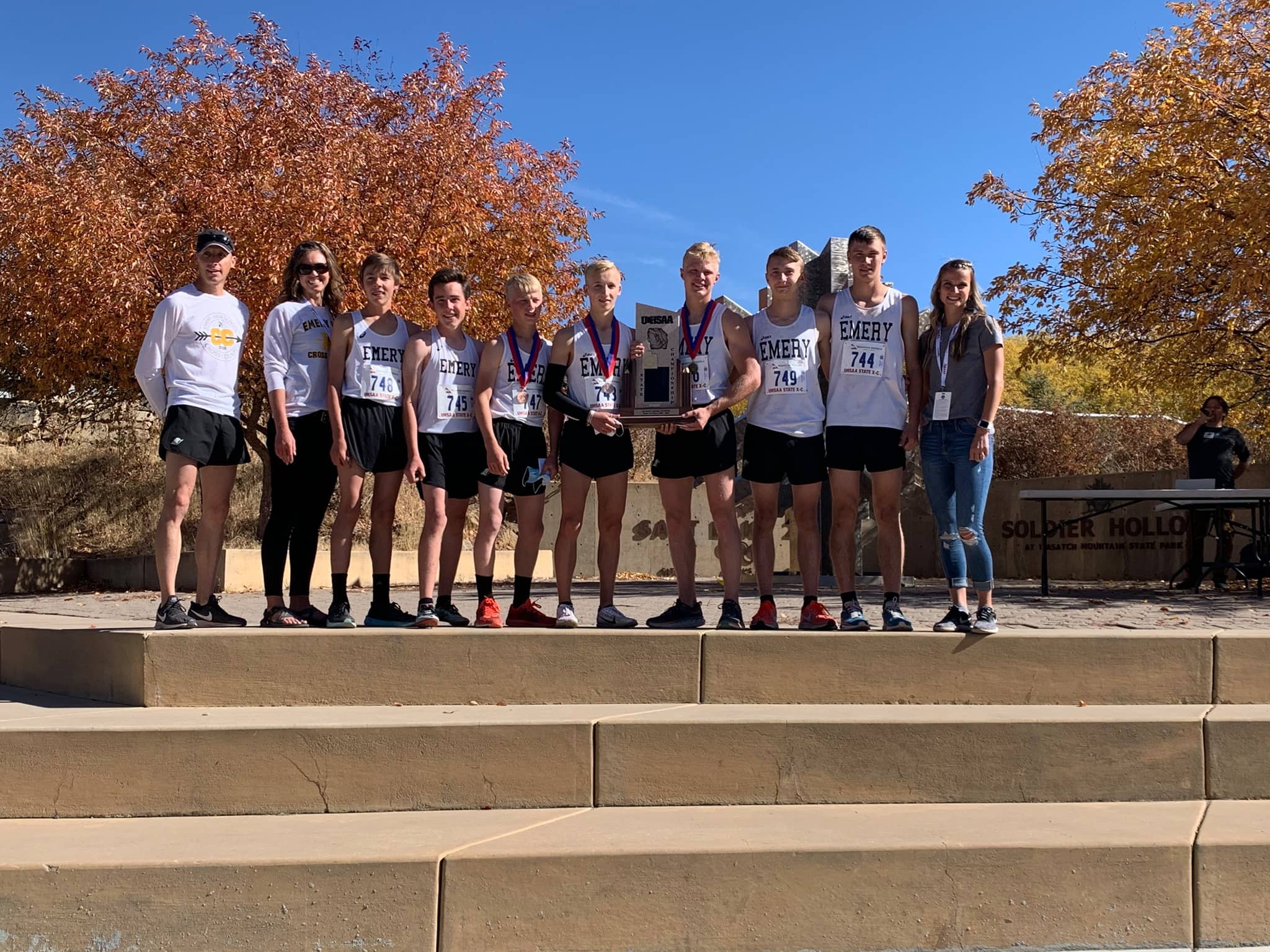 Three top-ten individual finishes lifted the Emery Spartans past the rest of the 3A field as the team celebrated a cross country championship victory Thursday afternoon at Soldier Hollow in Midway.
Accumulating 66 points, the Spartans edged region rival Richfield by one point to clinch the 3A State Championship. Morgan finished in third with 78 points, while Union and Judge Memorial rounded out the top five.
Senior Bryar Meccariello gave the Spartans its highest individual finish as he crossed the finish line in third with a time of 17:50.0. Sophomore Merritt Meccariello ended eighth overall with a time of 18:42.8. Jess Christiansen ended right behind at 18:43.3.
With those three standout performances Emery gained a sizable advantage on the rest of the field as the only team with three top ten finishes. Richfield managed to close the gap as all five of its runners finished inside the top 20, but ultimately fell one point short.
Senior Zach Wolford finished 23rd overall for Emery, ending with a time of 19.16.1. Freshman Mason Stewart crossed in 32nd place at 19:31.8. Both Wolford and Stewart finished less than one second ahead of the next runner, saving Emery in the point category.
The 2020 State Championship comes following a fourth place performance in 2019 and a second place end in 2018. Emery had shown dominance throughout the season, also winning the Region 12 championship in dramatic fashion.
The Emery Lady Spartans also completed the season Thursday afternoon as they ended 9th overall after gathering 215 points. Morgan claimed its third consecutive state championship by cruising past the field with 49 points. North Sanpete was second, followed by Carbon in third. Manti and Richfield closed out the top five.
Adaley Lester was the top performing Lady Spartan as she ended with at time of 24:31.5 for a 32nd place nod. Kallee Cook was close behind in 38th with a time of 25.12.6. Kylee Willis, Daicee Ungerman and Carlie Bennett were the final three finishers, registering points for Emery.
Below are the complete results from both the team and individual finishes:
| | |
| --- | --- |
| Team (Boys) | Points |
| 1- Emery | 66 |
| 2- Richfield | 67 |
| 3- Morgan | 78 |
| 4- Union | 114 |
| 5- Judge Memorial | 116 |
| 6- Carbon | 143 |
| 7- Manti | 153 |
| 8- North Sanpete | 226 |
| 9- Juab | 245 |
| 10- Grantsville | 248 |
| | |
| --- | --- |
| Emery (Boys) | Time |
| 3- Bryar Meccariello | 17:50.0 |
| 8- Merritt Meccariello | 18:42.8 |
| 9- Jess Christiansen | 18:43.3 |
| 23- Zach Wolford | 19:16.1 |
| 32- Mason Stewart | 19:31.8 |
| 34- Camdon Larsen | 19:35.3 |
| 39- Beau Cook | 19:47.8 |
| | |
| --- | --- |
| Team (Girls) | Points |
| 1- Morgan | 49 |
| 2- North Sanpete | 78 |
| 3- Carbon | 86 |
| 4- Manti | 90 |
| 5- Richfield | 143 |
| 6- Grantsville | 145 |
| 7- Union | 149 |
| 8- Judge Memorial | 195 |
| 9- Emery | 215 |
| | |
| --- | --- |
| Emery (Girls) | Time |
| 32- Adaley Lester | 24:31.5 |
| 38- Kallee Cook | 25:12.6 |
| 54- Kylee Willis | 26:42.0 |
| 57- Daicee Ungerman | 27:14.5 |
| 61- Carlie Bennett | 28:09.8 |
| 67- Kadrianne Bird | 29:00.3 |
| 69- Bethany Justice | 29:23.3 |