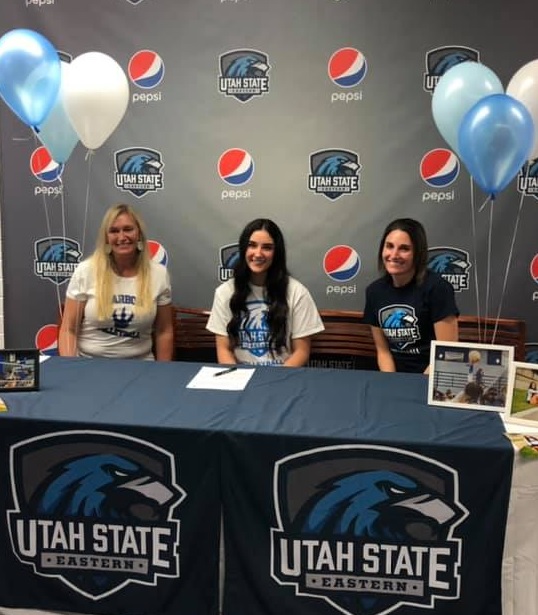 Carbon High School senior Makenna Blanc signed a National Letter of Intent to play volleyball at USU Eastern Monday night at the BDAC in Price.
Blanc, a three-year contributor for the Lady Dinos, was a prominent figure in this year's team. Finishing the regular season with a 20-4 record overall, Carbon entered the 3A State Tournament as the No. 2 ranked team in the classification.
"Makenna was a huge key to our success this season and over the past three years," said Carbon head coach Teresa Mower. "Her athleticism enabled her to get her hands on more volleyballs than any other setter in the state. She's a competitor and its hard to beat a girl that never quits."
Blanc finished top five in nearly every major statistical category for Carbon as a senior. On two separate occasions she recorded double-digit kills in an individual game, ending the season with 110.
Her 2020 season totals included 357 digs, 73 blocks and a team best 8.1 assists per set.
Blanc will be joining one of the elite volleyball programs in the state for the 2021 season.
In 2019 the Lady Eagles finished with a school record 27 wins, sweeping eighteen of their opponents. The team spent ten weeks in the NJCAA Top 20 national rankings ending at No. 12. The Lady Eagles defeated six teams on the national rankings list and advanced to the SWAC Championship for the first time.
"Makenna is one of the most athletic setters that we have followed over this past year," said USU Eastern head coach Danielle Jensen. "I was impressed with her leadership on the court and her ability to effectively place the ball in out of system situations. She will help our program continue to move in the right direction. We're excited to have a local for the community to cheer on."