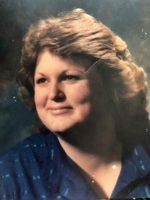 Kelly Kaye Fuller, age 58, passed away peacefully at Castleview Hospital on November 13th, 2020.
She was born October 16,1962 the fifth of nine children to Dennis and Zelda Fuller.
She met Lorene Lake in 1977, and they were Life companions for 43 years.
Kelly enjoyed shopping, fishing and camping. Playing cards and games with friends and family was a joy for all. Children gave her the greatest happiness. Babysitting and taking care of others was her goal in life.  The love for her fur babies was like none other, they truly were her world. She took in many strays as her heart went out to anyone struggling.  Kelly had a witty sense of humor and a giggle that would make you laugh, even if you didn't know why she was giggling. She was compassionate and would help you in any way she could, always making the forgotten ones feel loved; and she loved unconditionally.  A pure heart of gold. When she was young, she was often called twiggy since she was so thin. She also played the piano by ear just like her grandma. Her health had been failing for many years, but she rarely complained about her problems to anyone, yet always had a listening ear and genuinely cared for others. She remembered everyone on birthdays and holidays, always giving gifts and love to everyone.
We love you Kaykey, we will miss your sweet smile and the pigtails/feelers you always wore. Thank you for your love to all. Surely, you will be missed!
In lieu of flowers, Kelly would want you to give the love towards animals. Please donate to your local animal shelter.
The family would also like to thank Castleview Hospital for their graceful support, during a difficult time.
Arrangements entrusted to Mitchell Funeral Home of Price where friends are always welcome daily and may share memories online at www.mitchellfuneralhome.net.