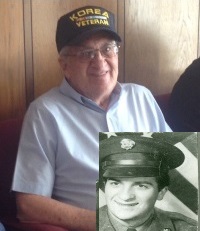 Our beloved father, grandfather, great grandfather, brother, uncle and hero, Carmel Joseph DeCaro, age 88, passed away November 18, 2020 surrounded by his family due to complications of a stroke.
Carm was born July 19, 1932 in Trinidad, Colorado to Michael and Louisa DeCaro.  His father passed away when he was 12 years old and Louisa re married Ross Iaquinto in 1947.  Ross helped raise Carmel and his three brothers, Albert, Mario and Amadeo.  The family moved to price in 1947.  Carmel loved his country and was very patriotic.  He served in the Korean Conflict where he spent time on the front line.  At his home he proudly flew his American flag.
Carmel married Merlene Powell and they had four children, Mike, Jimmy, Tracie and Denise.  They later divorced.
Carmel was employed by Price City and went on to work for Koret of California where he retired in 1994.  His greatest enjoyment in life was his children and grandchildren, Justin, Alisha, Landon, Brandie, Tyson, Chris, Cody and Jeremy.  He loved hunting, fishing, cooking, gardening and was our family mechanic.  He will be dearly missed by all who knew and loved him.
The family would like to thank Charity, Teri, Jennifer, Tiffany and Willow with Community Nursing Services, Castleview Hospital and Dr. Glenn T. Etzel for all their loving care.
Survived by his children, Mike (Kelli), Jimmy (Leslie), Traci; brothers, Mario (Marta) and Albert (LaVonne); grandchildren and great grandchildren; many nieces and nephews.
Preceded in death by his parents; stepfather, Ross Iaquinto; brother, Amadeo; daughter, Denise "Denny"; son in law, Danny Coleman.
Funeral service, Saturday, November 21, 2020, 2:00 p.m., Mitchell Funeral Home where the family will receive friends one hour prior to service.  Interment, Cliffview Cemetery.  Arrangements entrusted to Mitchell Funeral Home of Price where friends are always welcome to share memories online at www.mitchellfuneralhome.net.