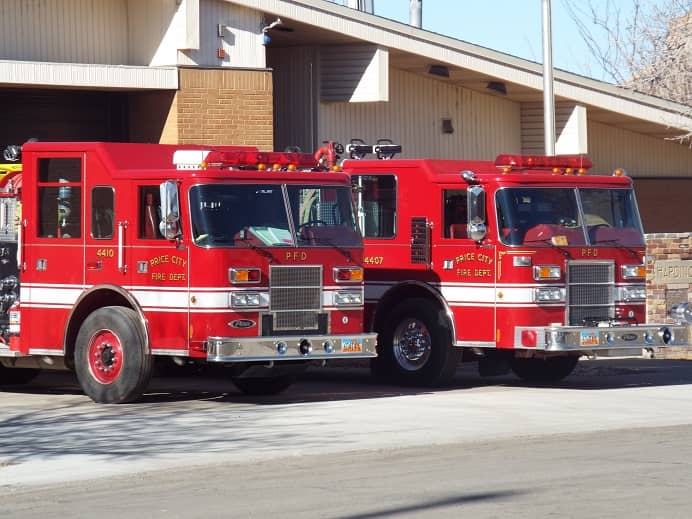 It's that time of year where residents are preparing for the Thanksgiving holiday with all the fixings and some residents may select to deep fry their turkey this year.  Price City Fire Chief Fitzgerald Peterson wants to make sure that any cooks that choose to deep fry their turkey will take safety precautions when doing so.
The first thing that folks should consider is the location they plan to set up their deep fryer. "It's really easy to think about the carport is fine, or the garage and that's your first mistake. We would like to have people do it somewhere it's outdoors away from the building and away from anything above you because if it flares that's what going to start the fire," said Chief Petersen. The turkey fryer should be set up more than 10 feet away from your home or structures and set on a flat level surface.
The biggest mistake that most people make is trying to deep fry a partially thawed turkey. "It will explode. We did a demonstration last year, we're going to post on our Facebook page about a partially frozen turkey that will just explode into it, it's something that you can not control, it will put you in jeopardy," stated Chief Petersen. Also remember that cooking oil that is heated beyond its smoke point can catch fire, if you notice the oil is smoking, turn the fryer off. It is not a bad idea to have a dry chemical fire extinguisher nearby because a water source will not dowse the fire.
Another important rule is to NEVER leave the fryer unattended. "Just be aware of what the temperature is of the oil. Make sure there's a space for that the children or pets can not get near and we're advocating three or at least three feet; it so easy for a kid to run into that and do some serious burns that will change your life," said Chief Petersen.  Keep bystanders to a minimum when deep-frying a turkey.
All members of the Price City Fire Department would like to wish everyone a safe and happy Thanksgiving holiday.