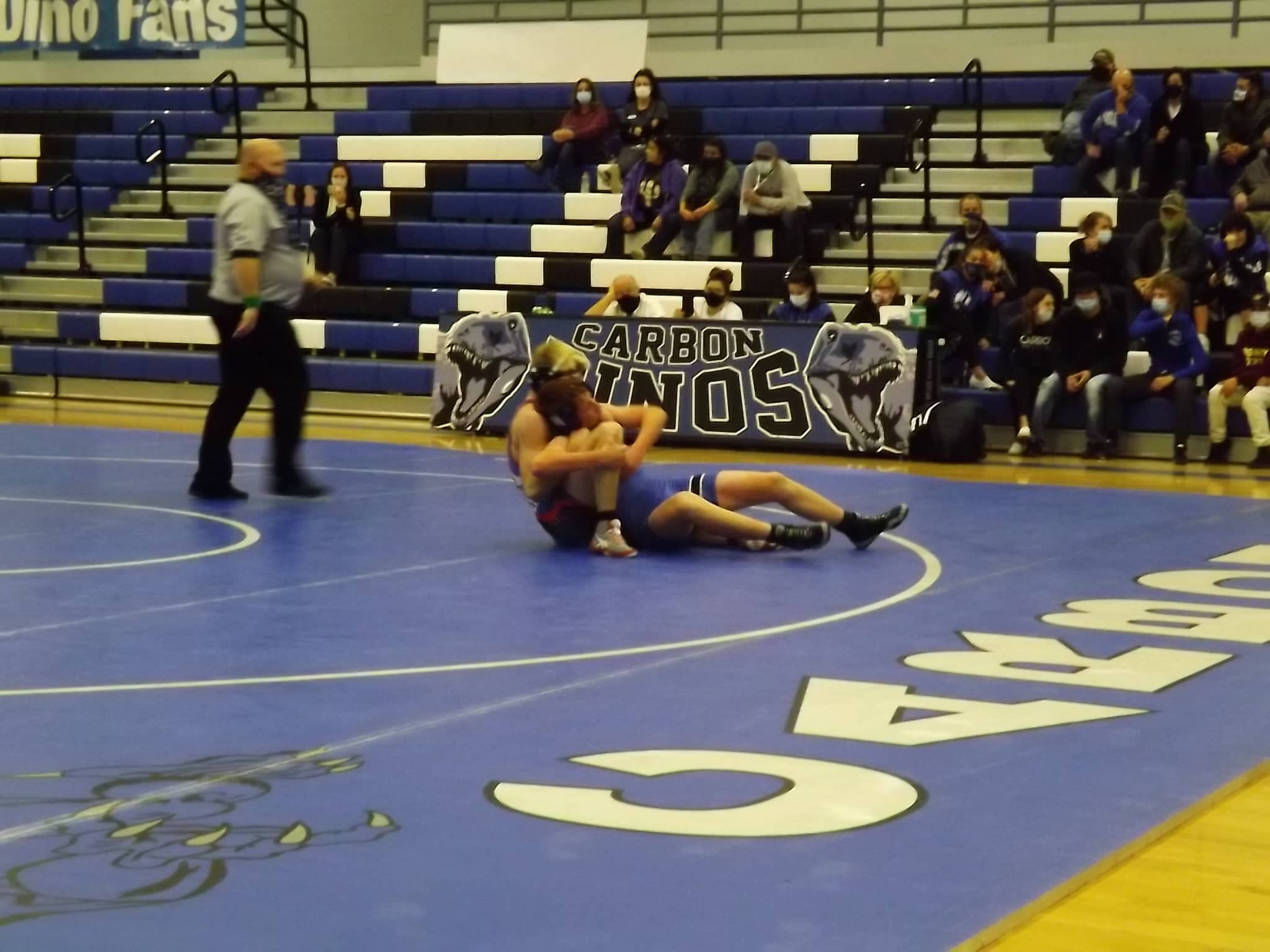 Last Friday and Saturday the Carbon Wrestling team closed their season out at the 3A State Championship Tournament at the Sevier Valley Center, in Richfield. Carbon finished in 13th place out of 17 teams Juab, Morgan and Emery made up the top three.
This season the Dinos have had some great successes with a top five finish at the Divisional Championships and a second place finish at the 3A Duels Invitational back in January.
In the 106 pound weight class Rawzyn Allred went 1-2 defeating Frankie Cornelius of South Sevier by decision 10-3, he lost his final match by injury default to Tyler Payne of Juab. Leonardo Leyva also wrestling in the 106 class lost both of his matches in the tournament.
At 113,  Jacob Nelson lost both of his matches to wrestlers from Juab, his first was to Kaden Ercanbrack who would go on to claim a second place finish in the state. The second to Braxton Steiner , who would win by fall (1:54).
Caleb Marshall, a senior, went 0-2 in the 120 pound class losing his first match to Brandon Mora of South Summit and in his final match he fell to Ashton Wright of Summit Academy. Eric Holt also wrestling at 120, went 0-2 in his matches with losses to Weston Blake of South Sevier and Drew Beckstrom of Delta.
In the 126 pound division Brax Tapia finished the tournament 2-2 beating Cole Peterson of South Sevier in the opening round by fall at the 3:53 mark. In the quarterfinals he was beaten by Will Korth of Morgan. Tapia would battle back in his next match with a victory over Jayson Rodriguez of South Summit, but  Brax's run would come to an end when he fell to Zak Sargent of Morgan.
Colin Fausett who went 1-2 in his Tournament at the 138 pound class fell in his first match to Drake Mangum of Emery. Fausett would claim a victory in his second round match-up with Brigham Bradshaw from South Sevier.
Senior Bryce Judd, wrestled at the 145 pound class, defeating Jacob Fillmore of South Sevier by decision 6-2. In match number two he would take on Will Haight of Summit Academy and would lose by fall at the 3:40 mark. Haight would eventually go on to claim a third place State finish.
Arie Kranendonk would finish his wrestling career at Carbon with a sixth place State finish at 152 pounds. In his first match he beat Keston Johnson of South Sevier by fall. In the second round Bryar Meccarillo of Emery beat Kranendonk by fall, Meccarillo would go on to win the State Championship at 152. Arie came back strong in his next two matches with wins over Nick Smith of South Summit and Aidan Mortensen of Emery before falling to Everett Gilson of Morgan to claim sixth.
Phillip Howa finished 1-2 in the 160 pound class beating Brock Rowley of Delta in his first round match-up. In the quarters he would fall to Jaxin Torgerson of South Sevier by pin and then drop his final match to Ryler Blackett of Juab.
Daron Gardner qualified for the State Tournament in the 170 pound class. Battling in his first contest, Garner would lose  to Carston Jensen of Richfield by fall (1:16) and then dropped  second match to Ethan Richards of South Sevier.
At 182, William Carmichael claimed a win in his first match against Hagan Walker of Summit Academy. He would lose his next two however against Isaac Rees from Morgan (who would finish second overall) and Spencer Olson of North Sanpete.
Senior Easton Horsley  at 220 pounds who finished in second place in the divisional round, went 3-2 at the Championships. Easton found victory in his first round match against Jeffery Davis ended in a fall at the 1:16 mark. Up Next Easton Thornley of Emery claimed the win with a pin at the :45 mark. Horsley would come back in the next two rounds with wins over Jake Nickle of Delta (fall in the 5:15) and Jaxson Larsen (Morgan) by decision. In the fifth place match Horsley lost to Briggs Ludlow of Juab by pin in :43.
And in the 285 pound classification Riley Winder went 2-2 losing his first match to James Richardson of Emery at the 1:15 mark by fall. His next two matches were victories over Victor Baray of Delta and Jaxton Adams of Juab. In the semi-finals of the consolation bracket Winder lost to Angel Ramirez of Delta by fall in :47.
Congratulations to all who competed. Carbon had five freshman compete at the State level this year. It will be interesting to see where they go from here ans they will also lose five seniors to graduation this year as well.
Below are the results from the 3A State Championships for Carbon:
| | | | |
| --- | --- | --- | --- |
| Weight Class | Name | Record | Place |
| 106 | Rawzyn Allred | 1-2 | – |
| 106 | Leonardon Leyva | 0-2 | – |
| 113 | Jacob Nelson | 0-2 | – |
| 120 | Caleb Marrshall | 0-2 | – |
| 120 | Eric Holt | 0-2 | – |
| 126 | Brax Tapia | 2-2 | – |
| 138 | Colin Fausett | 1-2 | – |
| 145 | Bryce Judd | 1-2 | – |
| 152 | Arie Kranendonk | 3-2 | 6th |
| 160 | Phillip Howa | 1-2 | – |
| 170 | Daron Garner | 0-2 | – |
| 182 | William Carmichael | 1-2 | – |
| 220 | Easton Horsley | 3-2 | 6th |
| 285 | Riley Winder | 2-2 | – |