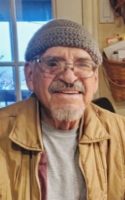 Daniel Padilla was born in New Mexico on April 24, 1940, but raised in East Carbon, Utah. Throughout his travels in life, he always dreamed of coming back to his roots to retire. He felt blessed to live out the last years of his life in Price with his sweetheart Kathy Turnquist. She remained by his side until the very end. She was a wonderful caregiver, making it possible for Daniel to pass peacefully at home on February 18, 2021, at the age of 80. We love you, Kathy! Thank you for your dedication to Dan. Your companionship helped Daniel to live out his last years close to the land that he loved so much. Dan was an avid hunter and shared this love with his children and grandchildren.
DANIEL IS REMEMBERED AS A MAN AMONGST MEN. He has fulfilled many significant goals in his life. Daniel was a master craftsman, a consummate professional, and a true artist. He had much to be proud of, yet Daniel was a humble man. You never heard him brag. He didn't have to. His character told his story and blazed a trail. Daniel helped light the way for the many that were lucky enough to cross Daniel's pathway. I don't know of anyone in Dan's life that has not been touched by his service and devotion to family.
Daniel was also a very grateful man. Even on his sickest days, he walked by faith and expressed gratitude for God who allowed him another day on the planet. He has been a very dedicated father. Daniel was always available for his children. He will be deeply missed.
Daniel is survived by his only son, Daniel James Padilla (Danny); Ernestina Safford (Tina) and Kristine Samir's (Kris); siblings, Fred Padilla, Jose B. Padilla (Benny), Mary Helen Runyon, and Irene Scott; his true lifelong friend, Don Matson. Daniel always introduced Don as his brother. They had experienced so many of life's ups and downs together, and Daniel knew that Don had his back. Don would be there at the drop of a hat, if needed. It is so fitting that upon being diagnosed with cancer, Don quickly came to Dan's aid and was a support for Kathy until Daniels's passing. We love you Don! Daniel adored his grandchildren and great-grandchildren. He is survived by many of them, but remembered each and every one of them individually. They brought joy to his life and a sparkle to his eye.
His passing leaves behind a true legacy. Daniel embodied goodness, hope, and love. He was an honest man and quick to see the good in others. We will miss you Daniel. You may be gone for a time but your memory and example are still very much alive and we look toward the day that we meet again.