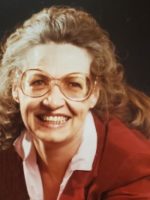 Marta Black DiCaro "Monk" died April 5, 2021 of natural causes surrounded by family and her sweetie of 62 years, "Ejali" who stood by her side until the very end. She was 88 years old.
Marta was born June 15, 1932 in Peerless, Utah to Benjamin Acel Black and Mamie Olsen Black. She married Mario DiCaro (Ejali) on June 15, 1964 in Las Vegas, Nevada.
Marta was a pioneer for women in a lot of ways, as demonstrated by her desire to have female pallbearers. She was recognized in the local Sun Advocate as the first female crossing guard in Price City, and she instilled in her posterity the belief that you can do anything as long as you put your mind to it.
She was a woman with class and had many talents. She wrote several books, played piano, and loved crafting, quilting and sewing. She also had a love for animals and enjoyed watching the birds outside of her kitchen window.
Marta had an intense passion for all sports, especially Nascar, and loved cheering for her favorite driver, Jeff Gordon.
She spent many years volunteering in local schools, including volunteering as a substitute teacher for Carbon High School. She was known as "Mrs. DiCaro" and was loved by all students and faculty.
She had a strong conviction about what was right and wrong, and never betrayed her principles. She never hesitated to help those who were less fortunate and always looked out for those in need.
She is survived by her loving husband, Mario DiCaro; four children, Benjamin DiCaro, Travis DiCaro, Kelly DiCaro, and Becky (Roland) Tallerico, as well as numerous grandchildren and great-grandchildren.
Funeral service, Saturday, April 10, 2021, 10:00 a.m., Mitchell Funeral Home (233 East Main Street) where the family will receive friends one hour prior to service. Interment, Price City Cemetery.  Arrangements entrusted to Mitchell Funeral Home of Price where friends are always welcome daily and may share memories online at www.mitchellfuneralhome.net.
In lieu of flowers, please donate to one or more of Marta's favorite charities: Salvation Army, Shriners Hospital for Children, or Father Edward J. Flanagan Boys Town.