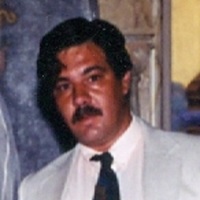 On Sunday, June 6, 2021, Dino Constantine Poulos, beloved son and brother, passed away at the age of 59.  He was born on December 14, 1961 in San Diego, CA to George and Helen Poulos.  Dino was raised in Price, UT and graduated from Carbon High School.
Dino was a sweet man who loved music, played many instruments, loved writing his own piano songs and dancing to Greek music.  He loved the Price community and was active in the Greek Orthodox church chanting on Sundays and volunteering throughout the year. And, he was active with the Friendship Center and the clubhouse where he took pride in his work. Dino was kind to everyone.  When he gave his word, he would follow through whether he was tired or sick. Dino has many friends throughout the community and many favorite coffee spots that he enjoyed with his buddies throughout the years.  Dino is known for his big heart, personality and sense of humor. He definitely made his mark on this world.  We will miss him dearly.
He is preceded in death by his father, George Poulos; and survived by his mother, Helen Poulos; brother, Angelo Poulos; and sisters, Stacy (Sarantos) Tselekis and Voula (Eddie) Christopoulos; one nephew, Peter (Stacy); and one niece, Marie (Voula).
Trisagion service, Sunday, June 13, 2021, 7:00 p.m., Mitchell Funeral Home. Funeral Service, Monday, June 14, 2021, 11:00 a.m., Assumption Greek Orthodox Church. Family will gather at Mitchell Funeral Home Sunday and Monday one hour prior to services. Interment will follow in the Cliffview Cemetery in Price. Arrangements entrusted to Mitchell Funeral Home of Price where friends are welcome daily and may share memories of Dino online at www.mitchellfuneralhome.net.