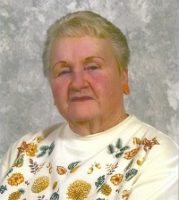 Della May Sorenson Broadhead, age 93, passed away June 9th, 2021, at Parkdale Care Center in Price. She was born May 31, 1928 in Provo, Utah to Rulon and Charlotte Small Sorenson. She graduated from Provo High School and later married Frank T. "Smokey" Broadhead in Provo on October 22, 1947.  He passed away on June 2, 1982.
Della enjoyed bowling, camping in Huntington Canyon, and riding motorcycles with her beloved husband Smokey. In her later years, she especially cherished her time as a "Pink Lady" at Castleview Hospital. She also enjoyed lunch dates with friends and going to the Carbon County Citizens Center. Amongst her family and close friends, she was fondly known as "The Joke Lady", as she always had a joke in her back-pocket wherever she went. She was a fantastic cook and there were always sweet goodies in her home. She will be dearly missed by her family and friends.
Della is survived by her daughter, Vickie (Greg) Poulos, Helper, Utah; and her special adopted family, Carolyn and Kenny Turner, Helper, UT.
Preceded in death by her parents, Rulon and Charlotte Sorenson; husband, Frank T. "Smokey" Broadhead; infant sons, Clyde, Frank, and Tommy; brothers, Pete Sorenson and Darold Sorenson; sisters, Melba Hardy, Thelma Madsen, Colleen Follett, and Francelle "Fluffy" Pierce.
Graveside service Wednesday, June 16, 2021, 11:00 a.m., Timpanogos Memorial Gardens Cemetery (1000 North 400 East)  in Orem, Utah. Arrangements entrusted to Mitchell Funeral Home where friends are welcome daily and may share memories of Della online at www.mitchellfuneralhome.net.